Mosura
1961 / 101m - Japan
Adventure, Fantasy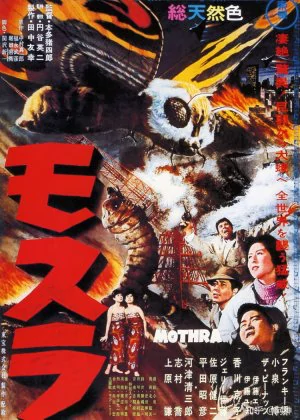 Godzilla is by far Honda's most popular property, but Mothra may very well have an even bigger cult following. I've seen the creature before in several Godzilla films, but never managed to catch the original one. While it fits very well within Honda's oeuvre, Mothra has a slightly different focus that may suprised seasoned Godzilla fans.
The film is slightly more geared at adventure and spends quite a bit of time on the initial exploration of Mothra's island, including the tribal culture it houses, and in particular the two fairies. While there is room for the usual destruction, it doesn't come until very late into the film.
Mothra is probably one of Honda's cuter creatures, looking more like a cuddly teddy bear than a fearsome monster. It appears slightly more menacing in its caterpillar state, but it never measures up to Godzilla's angrier adversaries. The start is pretty slow and 100 minutes it's a bit long for a film like this, but once Mothra finally take center stage there's enough Honda magic for faithful fans. Not bad, but I prefer Honda's crazier films.