D-Zaka no Satsujin Jiken
1998 / 95m - Japan
Mystery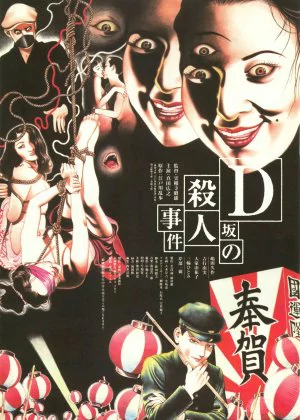 When someone like Jissoji takes on Rampo, there's a good chance something great will come of it. Murder on D Street isn't Rampo's most familiar work, but this dark tale of death and debauchery is clearly from his hand. Jissoji's direct and dynamic style is a perfect fit, making this a fine precursor to his entry in the Rampo Noir anthology.
Fukiya is an artist who specializes in the restoration of artworks. He's also great at making forgeries. When a woman walks into his shop and shows him lost scrolls, he is immediately intrigued. He discovers the woman actually modelled for the paintings, and develops a sickening fascination for her.
When it comes to adapting Rampo stories, it's really about bringing out that lurid, slumbering darkness that hides in people. Jissoji truly is the ideal man for the job. The cinematography looks stylish, the performances are restrained, and the score adds to the atmosphere. A remarkable film from a remarkable director.