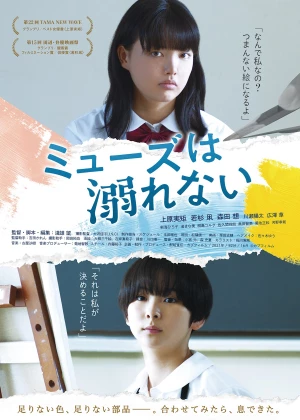 A fine and gentle Japanese coming-of-age drama with a minor twist. It's not a twist really, just a slightly quirky detail that adds a tiny bit of extra flair to the film. It's not trivial though, as there as so many films in this niche that anything that sets a film apart is crucial to make it a more memorable experience.
Sakuko accidentally falls into the sea, Saibara witnesses the scene and turns it into a painting. Saibara is a gifted artist and people love her painting. She wants Sakuko to model for her next work, but Sakuko, an aspiring artist herself, is annoyed by the attention Saibara gets. The two are more alike than she suspects though.
A pleasant seaside setting, a small town, and some high school drama. Add two girls who are battling their own demons and find strength in each other's company, and you have a bunch of familiar themes and tropes. Sakuko's art project (a funky self-made boat) is the real star piece of the film, the rest is sweet and wholesome, but not quite unique enough to become a true gem. Prime filler though.