Boku no Ojisan
2016 / 110m - Japan
Comedy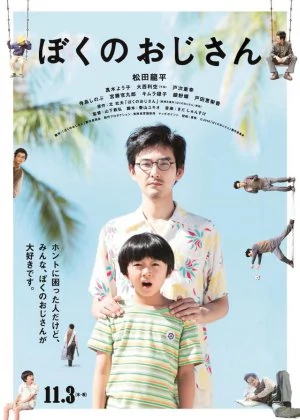 A light but fun and enjoyable Yamashita. It's certainly not his most distinctive film, nor his most memorable, but thanks to the deadpan comedy, the well-considered direction and a standout performance by Ryûhei Matsuda this turned out to be a very capable and charming little film.
When Yukio has to write an essay about one of his family members, his eye falls on his slacker uncle. A philosopher who just loafs around and spends his days in bed, thinking about random things. Yukio's parents are tired of his lazy behavior and send him on a blind date, which kick-starts an adventure that will take Yukio and his uncle to Hawaii.
Matsuda's character is a hoot. A calm, calculated and sneaky oddball who uses his philosophy learnings to trick people into getting what he wants. The rest of the cast is on point too, the cinematography is bright and colorful, the comedy has just the tiniest mean streak and there's a little drama to pad out the narrative. Prime filler.