Zhi Jia Dao Ren Mo
2017 / 97m - Hong Kong
Romance, Fantasy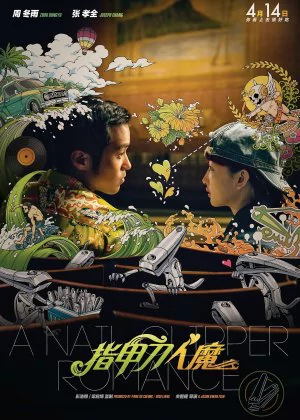 Quirky, sweet and modern romance with subverted fantasy touches. A Nail Clipper Romance is a film that's going to lose a lot of people with its goofy premise, for me it's a crucial element in the success of this film. I've seen quite a few romances already, Kwan's off-kilter approach to the genre feels like a breath of fresh air.
Central to the story stands Emily, a girl who believes she's part of a secret tribe who survive by eating nail clippers. When she meets Sean, a surfer who just got out of a painful break-up, she opens up to him and though Sean is hesitant at first, he decides to simply believe her and make the best of their relationship. It's an odd premise, not at all what you'd call realistic, but it's actually quite perfect for Kwan's romantic setup.
Two agreeable leads, some very nice visual touches, a beautiful setting (Honolulu) and a story that intrigues. The soundtrack is a bit disappointing, and the film could've been just that little dreamier overall, but Kwan delivered something very sweet and memorable, it saddens me to think this film will probably never get the respect it deserves.