2021 / 150m - USA
Crime, Thriller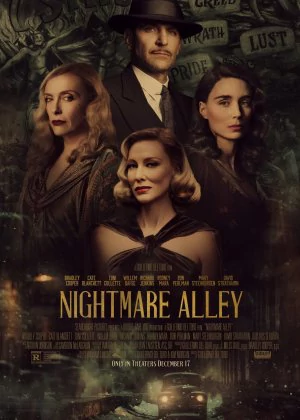 Guillermo del Toro goes full-on film-noir here. Heavy raincoats, shady characters and femme fatales are all folded into a rather simple noir plot that feels at least 50 years overdue. His dark, Gothic signature is a solid fit for the material, especially during the carnival scenes, but at 150 minutes the film overstays its welcome.
Carlisle is a lone drifter who arrives at a carnival and lands a temp job. He feels at home between the carnival people and decides to stay, learning the tricks of the trade from his colleagues. When his mentor dies, Carlisle sees the time fit to move on and start his own mentalist/hustling business.
The cast is great, the cinematography is ultra polished and the film oozes atmosphere. It's all pretty nice, but the story is really uneven and spread out far too much, with several important characters only making their first appearance halfway through the film. A short, more condensed cut would've been far better, but del Toro's talent is undeniable.