W Lesie Dzis Nie Zasnie Nikt
2020 / 102m - Poland
Horror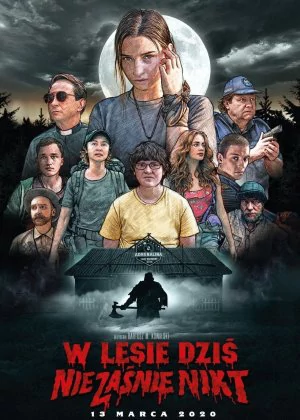 A typical film from a fanboy director whose country isn't know for producing horror films. I'm willing to bet Poland hasn't seen too many backwoods horror/slasher films yet, Nobody Sleeps in the Woods Tonight is a conventional ode with just enough of a personal touch to keep it from turning into a lazy copy.
A camp for kids who need to detox from their online presence, a trek in the woods, a mutant boy who escapes from his hideout. You've seen it all before, Kowalski adds a couple of minor twists (mostly in the origin story), but in the end it doesn't change much to the core of the film. A fat Polish hillbilly is stalking the woods and killing whoever comes near his home.
The film is happy to throw around references to other horror films, but often in a smart way (like the slasher sounds that are mixed into a romantic soundtrack). Kowalski shows a keen awareness of the kind of film he's making and expects the same from his audience. Performances are fine, characters are goofy, the kills are pleasantly brutal and the presentation is slick. A very entertaining film indeed.