2003 / 75m - South Korea
Adventure - Animation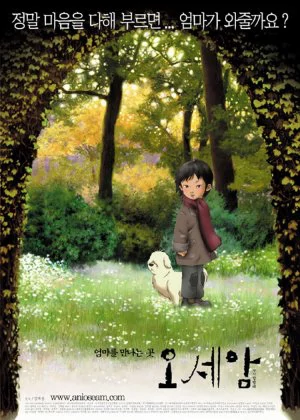 A pleasant rewatch, but not quite as good as I remembered it to be. In the early 2000s, the surge Of South-Korean cinema also caused a small increase in animated output. South-Korean studios had been doing the filler jobs for their Japanese counterparts for a while (mostly inbetweening), so they figured it was their time to shine. Oseam was one of those films that found a broader international audience.
The plot revolves around two young kids who lost their mother to a fire. The girl is blind, the boy is too young to make it on his own. They find shelter with some Buddhist monks, but their life is sober and the villagers don't look too kindly upon them. When the boy joins one of the monks to spend the winter up a mountain, a snowstorm is bound to mess up their plans.
The animation is a little crude and the film is a little too eager to mimic the impact of films like Grave of the Fireflies or Dog of Flanders. The characters are pleasant though, the pacing is solid and the runtime keeps things nice and short. It's an easy enough recommendation that will appeal to a large audience, but ultimately it lacks something to truly set itself apart.