2023 / 106m - USA
Adventure, Fantasy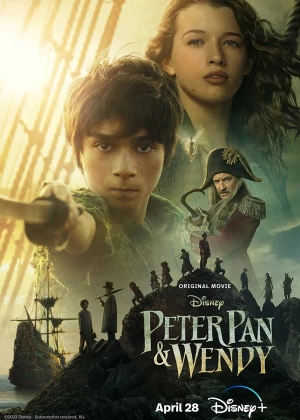 Another adaptation of the Peter Pan story. Films keep tumbling out of the Disney remake machine, I've long lost track of what classics they've covered and what they still have in store. It gets only more confusing when others outside of Disney also adapt these classic properties, but for what it's worth: there's a new Peter Pan adaptation, and it's directed by arthouse favorite David Lowery.
Wendy is sent to boarding school, but she'd rather stay home and keep her life as is. The night before she has to leave, she is visited by Peter Pan and Tinker Bell, inviting her on an adventure to Neverland, a place where nothing ever changes. Wendy agrees to join them, but soon enough she and her brothers are chased by malicious pirates.
There's a lot of hoopla about the casting (and some of the choices here are quite silly), but it's the bland direction and the somewhat unadventurous take on an already overfamiliar story that's the real killer. Lowery never made me understand why the world needed a new version of the Peter Pan saga, which is the first priority of any remake. Not good.