Le Quai des Brumes
1938 / 91m - France
Crime, Romance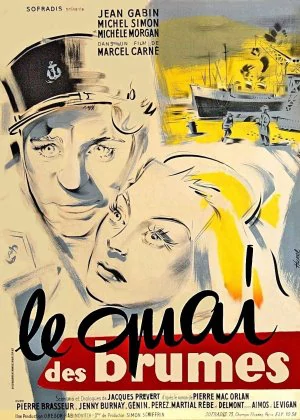 A surprisingly modern-looking film. The camera work is rather energetic, and the performances feel quite naturalistic, especially compared to other films from that era. Sadly, Port of Shadows is a late-30s films, which means that there's a lot of dialogue to wade through, which greatly hampers the pacing.
Jean is a deserter who is trying to flee the country. When he arrives in Le Havre he decides to lie low for a while, before his attempt to cross the border. He finds refuge with a painter, but there he falls in love with Nelly. Jean is suddenly a lot less inclined to move away, but things aren't that easy.
If the film had introduced more explicit noir elements and put more effort in mood-building rather than dialogue, this would have been a much better film. I may have to dig a bit deeper into Carné's oeuvre, sadly, his later work hasn't really appealed to me so far. The potential for a good classic is definitely there, it's just a shame Carné didn't exploit it properly.