Princess & Seven Gongfu Masters
2013 / 92m - Hong Kong
Action, Comedy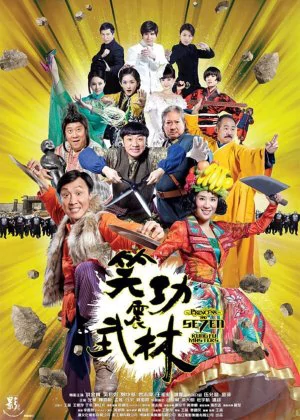 Saturation is a word that doesn't appear in Jing Wong's dictionary. The man simply doesn't seem able to stop making films. Princess and Seven Kung Fu Masters is his latest feature, although I suspect Wong acted more as a mentor for Venus Keung Kwok-Man, who received co-direction credits. It wouldn't be the first time Wong launched someone's career like this.
The film is a throwback to the kung fu comedies of the early 90s. It's a mix of martial arts and outrageous comedy bits (not quite unlike Stephen Chow's Kung Fu), sporting typical Hong Kong (over)acting, simple but functional CG and some genuinely original gags. Add to that the more than competent action sequences (though they can't really compete with the best the martial arts genre has to offer) and you have a fun-filled yet rather basic film.
As always, Wong gathered a legion of familiar faces to fill out his cast. There are the older work horses, including Sammo Hung, Sandra Ng, Eric Tsang and Yuen Wah. Then there are some younger talents, like Jiang Lu-Xia, Dennis To and Philip Ng. On top of that, Wong is also apt at introducing new talent, as is the case with Kimmy Tong Fei, clearly one of Wong's rising stars.
Princess and Seven Kung Fu Masters is entertainment in its purest form. It's a welcome update of the old classics, missing that little extra to turn it into a real gem (for that I'd recommend Tracing Shadows) but making up with sheer vigour, enthusiasm and pacing. Unless you're allergic to Hong Kong comedy or martial arts, it's a warm recommendation that's certain to put a smile on your face.