2022 / 102m - USA
Adventure, Comedy - Animation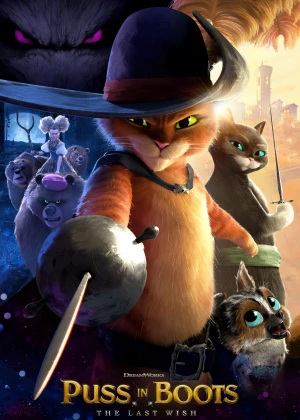 A post-Spiderverse animation. It's nice to see Sony's animation wasn't just a random fluke, but that it managed to create a tangible impact on the American animation scene. After 2 decades of sporting more or less the same plastic look, it's a delight to finally see some (hesitant) experimentation.
I didn't see any of the other Puss in Boots films, but that's not a problem at all. This is pretty much a stand-alone story, built around a character from the Shrek universe. Puss is living his final life and Death is on his heels. To make sure his future is guaranteed, Puss steals the map that leads to the final wish. A wish that could grant him extra lives.
The comedy is horrible, some of the characters are grating and the dubs are hard on the ears. In many ways, it's still a very obnoxious American animated comedy, but at least it's nice to look at. Human characters are still a little bland, but the heavy brush-painted look applied to animals and backgrounds is pretty damn cool. It's a step in the right direction.