Emesis
2021 / 83m - Argentina
Horror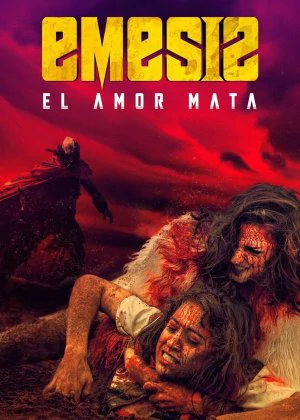 Pares' latest film is pretty much what I expected from it. It's not your regular zombie film, there are strong sci-fi and Japanese splatter (Meatball Machine comes to mind) influences that liven up an otherwise boring niche. It's not quite as zany or outrageous as his best film, but if you're looking for a short and sweet horror flick, there is plenty to like here.
A local tinkerer opens a portal to an alternate dimension. He isn't really prepared for the chaos that he is about to unleash. The portal works both ways and something slips through into our world. A mind-controlling parasite and a cloaked hunter ravage a small Argentinian town, while an all-female band gets stuck in the middle of this violent stand-off.
The intro could've been a little shorter, but once the group arrives in the overrun town all hell breaks loose. The horror is sufficiently bloody, the sci-fi elements add a neat twist to the zombie cliches and the second half of the film is one big gory ride. I kind of lost sight of Pares, I guess this might have been the push I needed to delve back into the rest of his oeuvre. Fun.