Ranma ½: Chûgoku Nekonron Daikessen! Okite Yaburi no Gekitô Hen
1991 / 74m - Japan
Comedy, Fantasy - Animation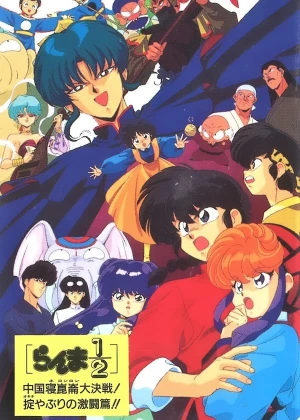 It's been such a long time since I watched some Ranma. I'm not a really big fan, but I did see some bits and pieces back in the 90s and if you're looking for simple entertainment it's always a fair bet. It's not the easiest franchise to get into (there's some weird stuff to get used to), but if you're familiar with other 80s franchises (like Urusei Yatsura for example), it shouldn't take too long to start feeling at home in the Ranma universe.
The plot is messy, and also pretty inconsequential, but who cares with this type of film? Akane is kidnapped by a Chinese prince because she owns part of a secret scroll. That scroll makes her the default bride for the prince. Ranma and his palls travel to China to rescue Akane, a trip full of danger and weird encounters. All this is preceded by an elongated, underwear-stealing gag that has nothing to do with the actual plot, but adds at least 15 more minutes to the runtime.
Chaos and comedy are pretty much one here. The pacing is fast, the characters aren't properly introduced and the story is incredibly random and fragmented, but that's all just part of the fun. The animation is limited, the art style is solid though. 75 minutes is a tad too long, but I wasn't bored for a second and I'll probably be completing the rest of the film series in the near future.