2019 / 87m - UK
Comedy, Romance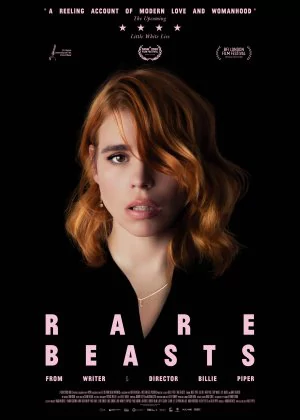 This was definitely something. I vaguely remember Billie Piper as a generic British pop princess, never would I have imagined she was capable of making a movie with so much quirk and bite. Rare Beasts is a film that comes with no warning or acclimation time, but that just makes it all the more fun.
Mandy is a single mom looking for romance. She hooks up with Pete, a troubled, angry, and misogynistic man. Her cravings for a relationship win it over her trepidations and the two begin a serious relationship. It's no fairytale romance, but despite outward appearances, they do seem to get along.
The dialogue really stands out, as characters appear to be voicing their innermost feelings directly at each other. There's an edgy crudeness to it that is pretty funny, only in a dark and salty kind of way. The direction is strong too, with lovely cinematography, a good score, and noteworthy performances. Piper proves herself a promising talent, I just hope she gets more chances to make a feature film. With just an extra nudge here and there, this could've been a bona fide masterpiece.