Rinne
2005 / 96m - Japan
Horror, Mystery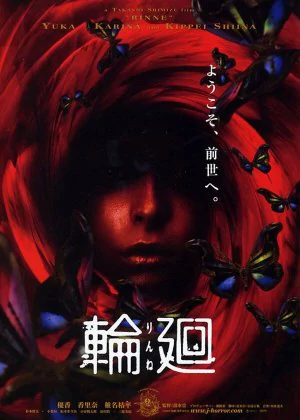 Classic J-Horror by one of the most prominent directors in the genre. Shimizu made a name for himself with the Ju-On series, but he's made quite a few horror films besides that. Reincarnation is one of the films that followed after the immense success of Ju-On. While I was pretty taken with it when I first watched it, the film's effect has diluted quite a bit over the past 20 years.
A young actress is having trouble getting her first big break. She finally lands a part in a horror film, not something she's dreamed of, but it's an opportunity. The film is based on an actual murder and it doesn't take long before strange things start happening on set. Even so, the show must go on.
The build-up is slow and deliberate, there aren't too many scares, instead, Shimizu goes for a more otherworldly atmosphere. The final 20 minutes crank up the dread and there are some pretty memorable scenes there (thanks to a nicely designed doll), but overall it's a bit too slow and generic. Not half as creepy as I remembered it to be.