Akutoku no Sakae
1988 / 96m - Japan
Mystery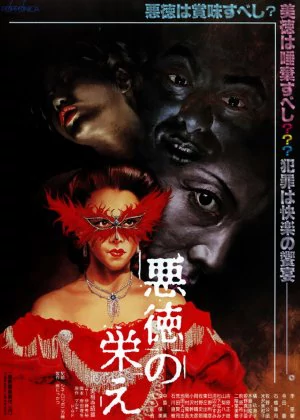 I guess I have no more excuses to ignore Akio Jissôji's oeuvre. Prosperities of Vice is the fifth Jissôji film I've seen and none of them have disappointed me so far. They've been mostly random watches (including two accidental anthology entries), but every single time I've been positively surprised.
This film too went far above my expectations. I'd expected a pinku with some artistic intentions, but describing it like that is doing Prosperities of Vice a big disservice. While the Sade mythology leaves plenty of room for debauchery, Jissôji delivers a very stylish and relatively restrained film.
For a film from the 80s it looks absolutely stunning, sporting superb camera work, neat and colorful styling and excellent use of lighting. The soundtrack too is distinctive and moody. The plot is a bit of a puzzle, but it was intriguing enough to keep me glued to the screen. A very interesting film, Jissôji deserves to be rediscovered.