Honto ni Atta Kowai Hanashi: Natsu no Tokubetsu Hen 2018
2018 / 105m - Japan
Horror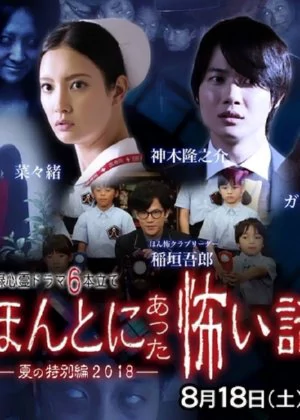 Well before Ringu and Ju-on turned the Japanese horror genre on its head, the front-runners of the genre were honing their skills working on the Honto ni Atta Kowai anthologies. Not that they were great films, but historically it's a series with considerable significance. Hence why I didn't mind checking out this 2018 TV special.
The plot isn't anything special. You get 6 unrelated short films, held together by a host and a bunch of kids reacting to the various horror stories. If you're familiar with the Japanese horror wave of the past two decades there won't be any big surprises here, this 2018 summer special offers the usual array of ghosts and haunted house stories.
Films like these are decent enough horror filler, but they aren't half as scary as they used to be. The anthology setup makes certain there's enough variety and some of the shorts do manage to create a bit of tension, but it's mostly just familiar territory that's being rehashed. Not terrible, but not very scary either.