Chikamatsu Monogatari
1954 / 102m - Japan
Drama, Romance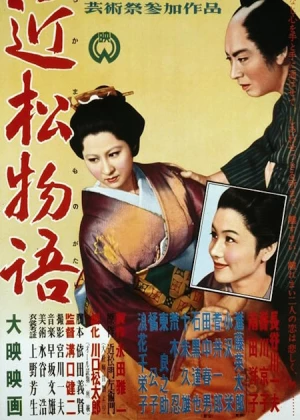 Kenji Mizoguchi is by far one of the most disappointing (classic) Japanese directors for me. I find his film tedious and theatrical, and A Story of Chikamatsu is the worst I've seen so far. I never cared for any of the characters, let alone their romantic and dramatic woes. As for the styling, it's simply disastrous.
Ishun owns a successful printing company, but that doesn't mean he leads a comfortable life. He is wary and believes his second in command is having an affair with his wife. In fear that others will believe these accusations, they both flee, but that only makes the situation worse.
Stark camerawork, bland decors, and a mix of restrained emotions and theatrical performances make this a difficult film to appreciate. Though the film isn't too long, the lack of any true intrigue and the unappealing stylistic choices make this a downright chore to sit through. I'm clearly not a Mizoguchi fan.