1981 / 122m - USA
Comedy, War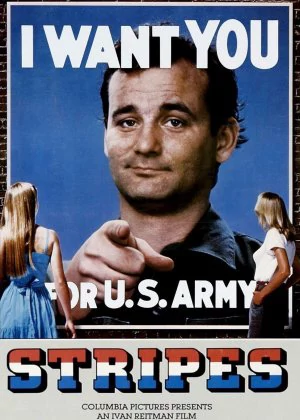 An army comedy, in the broadest sense of the word. It's clear that Stripes was meant to be funny, it certainly tries very hard, but I didn't crack a smile once. There's something extremely unpleasant about this film, which isn't even that uncommon for an 80s comedy. It's not that they are particularly mean-spirited (because I'd love that), they're just irritating.
John has no idea what to do with his life. He can't hold a job, his girlfriend is tired of him loafing around and his best friend is unable to motivate him. And so the two join the army, hoping they might find something there. John doesn't really fit the strict regime, but the camaraderie does slowly grow on him.
Murray is terrible, but so is the rest of the cast. The jokes are very predictable and consistently unfunny, the army setting is a complete bore and with more than two hours on the clock, the film outstays its welcome. Dedicated Murray/Reitman fans should probably give it a go, other than that I find this very hard to recommend.