2019 / 93m - USA
Action, Comedy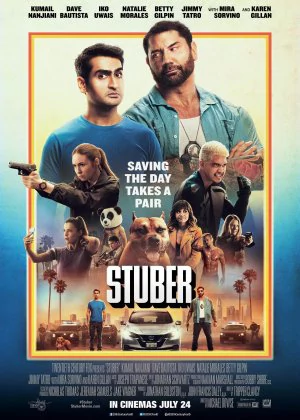 A rather basic cop buddy comedy. Stuber is a film that doesn't really set out to elevate or reinvent the genre, instead it tries to offer comfort and entertainment by giving people exactly what they expect. Whether it succeeds depends greatly on how much you can appreciate the chemistry between the two leads. For me it certainly wasn't the best genre effort, but it's far from the worst.
Stu is a guy stuck in a rut. He has a lame job, tries to earn an extra buck as an Uber driver and he's being friend zoned by the girl he loves. His life is about to change when a half-blind cop seizes his vehicle and summons him to drive him around as he tries to find the criminals who murdered his partner. Nothing out of the ordinary there.
Bautista and Nanjiani are a decent enough duo, but there's no real spark between them. They stick to conventional humor and reactions, which isn't enough to make this film stand out from its peers. Neither is the plot or the direction, but at least the pacing is solid and it never gets slow or dull. Just simple genre fare that delivers exactly what it promises from the outset.