Katte ni Shiyagare!! Dasshutsu Keikaku
1995 / 80m - Japan
Comedy, Crime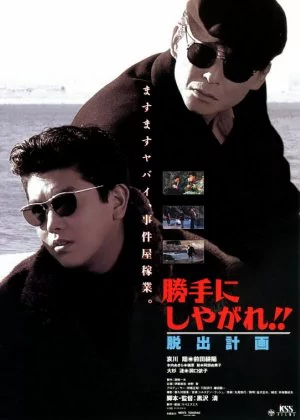 The second entry in one of Kiyoshi Kurosawa's lesser known franchises. It's not too surprising the Suit Yourself of Shoot Yourself films never became a big success, it is after all a series of Japanese TV films. The lighter tone, the excellent cast, consistent quality and short runtimes make this a franchise well worth exploring.
Yûji's latest assignment involves tailing the daughter of a Yakuza boss. He finds out the girl is hooking up with a boy in secret, something her father doesn't appreciate in the least. After this discovery, he offers Yûji a big lump sum of money if he captures the boy and brings him in.
Show Aikawa is a great lead, with actors like Sabu and Ren Osugi backing him up Kurosawa was able to assemble a great cast. The film isn't too serious, the story isn't dragged out unnecessarily and even though it lacks a little visual flair, the entertainment value is high. A solid entry in a solid series.