Mujô
1970 / 143m - Japan
Drama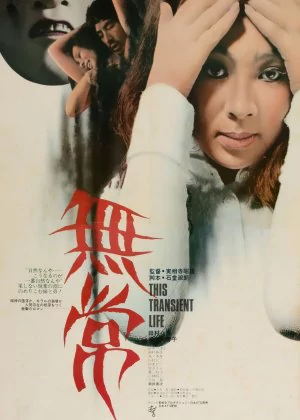 The real start of Jissôji's career and the first in his Buddhist trilogy. This Transient Life feels like a typical film of a promising first-time director (though Jissôji had made some shorts before this), a film where its director does his utmost best to prove his worth and goes all in. That makes for a slightly uneven film, but it sure is interesting.
Masao has an affair with his sister Yuki. The two don't seem to mind their incestuous splurges, but they get into trouble when Yuki gets pregnant from his child. Masao leaves to work for a sculptor and Yuki marries a local handyman who has a thing for her. But the two can't forget about each other and when they get back together, chaos ensues.
Pinku meets arthouse, with a splash of Japanese New Wave. It's an interesting combination of elements. The stark black and white cinematography is very nice, the pacing of the film slow but deliberate and the intrigue is strong. The soundtrack is a letdown though and some scenes do go on too long. Still, Jissôji left his calling card with this one.