Uzak
2002 / 110m - Turkey
Drama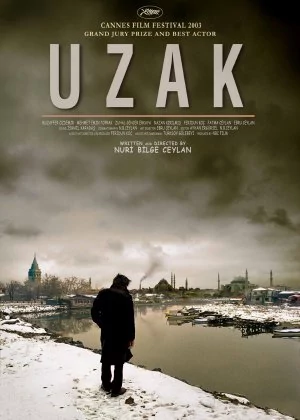 My second Ceylan. Distant is a touch better than Winter Sleep, though it's clear that Ceylan's style isn't something I can really warm up to. I don't really mind the quieter parts, nor the lack of narrative, the dreary conversations and the lack of visual panache on the other hand are killing it for me.
Yusuf is one of the many youngsters who move to the big city, hoping to find a better life there. He ends up staying with Mahmut, an older man. His new house guest triggers something deep inside Mahmut, and he starts to question why he didn't chase his dreams. Mahmut wants to get rid of Yusuf, but he can't just put him back on the street.
The performances are decent and the scenes with characters just strolling around are nice enough, but the drama didn't really hit me and there were too much throwaway moments in between. Minimalist films tend to be a bit hit-and-miss for me and Ceylan's work just doesn't appear to be polished or moving enough to wow me.