Hatsuyuki no Koi
2007 / 102m - Japan
Romance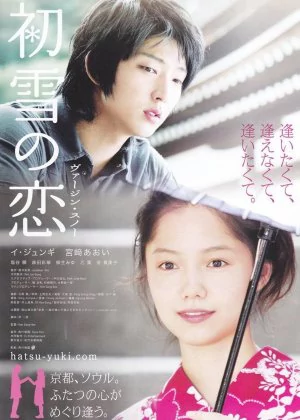 A pretty typical, dedicated Japanese romance. Virgin Snow is a simple genre flick that has no real intention to color outside the lines. Instead, it banks its entire success on its two leads, and with Aoi Miyazaki's headlining, that probably wasn't such a bad call. It's certainly not the best of its kind, but you could do a lot worse.
Min is the son of a Korean potter, who is forced to move to Japan with his dad. Min doesn't speak a word of Japanese, which makes his stay in Kyoto quite difficult. His mood changes when he runs into Nanae, a young paintress with a smile to die for. She likes Min's outgoing character and the two hit it off. Nanae's unhealthy home situation might get in the way of their romance.
Miyazaki is perfect for a role like this, as she not only looks angelic, but she also has the chops to pull off the more dramatic parts. The story is a bit too sentimental though, and the score can get a little heavy-handed. Still, there are more than a handful of touching moments. Not a bad film, but one that plays it a little too safe.