Ah Haru
1998 / 100m - Japan
Drama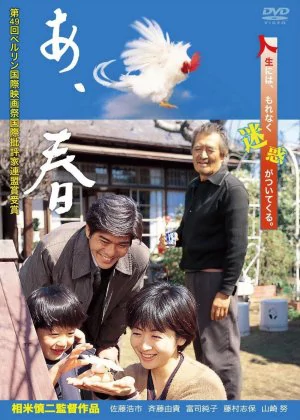 A pretty straightforward drama by Somai, with a strong early 90s vibe. Whereas men like Koreeda were already well on their way to reinventing the Japanese drama, Wait and See is a film that belongs to the previous generation. It's a bit cruder, a little rowdier, and not quite as subtle as I would've preferred it to be.
Hiroshi's life is turned upside down when his father suddenly arrives on his doorstep. His mother told Hiroshi that his father had died when he was five. To add to the emotional turmoil, Hiroshi's company is about to go bankrupt. He tries to cope with this new situation as best as he can but finds himself way in over his head.
The performances are decent but a little rough, the drama is a tad predictable and while the presentation is nice, it never really stands out. The film is on the shorter side though, which helps. Ultimately, this felt like a safer entry in Somai's oeuvre, but it's definitely not a bad film. Just a bit of oldskool Japanese drama filler.