Yaneura no Sanposha
1993 / 74m - Japan
Mystery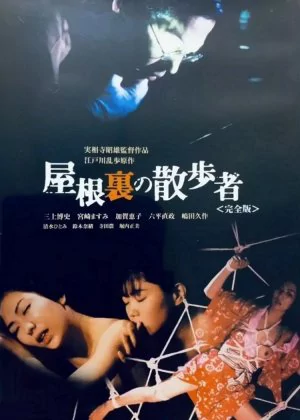 Jissoji adapts another Rampo story. The two are a great match, although with Jissoji it can be a little tricky to put a clear label on him. He's a director with some unique and varied sensibilities, handling auteur/arthouse productions and popular cheese with the same ease. The mix of the dark and the perverted, so typical for Rampo's stories, is another thing he really does well.
It's not the first adaption of this Rampo story, it's also not a very difficult story to adapt, so don't expect any wonders here. A man staying in a hotel discovers the open attic, which allows him to spy on the other guests. What starts as a voyeuristic adventure quickly turns into cold-blooded murder, others seem to be on to his little scheme.
Jissoji keeps it short and sweet, which is perfect for the simple premise. While the story remains basic, more effort was put into the mood. Thanks to the rather stylish cinematography and the pleasant score, Jissoji hits the right notes. It's not one of his more remarkable films, but an easy recommend for fans of both Jissoji and Rampo.