Ni Na Bian Ji Dian
2001 / 116m - Taiwan
Drama, Romance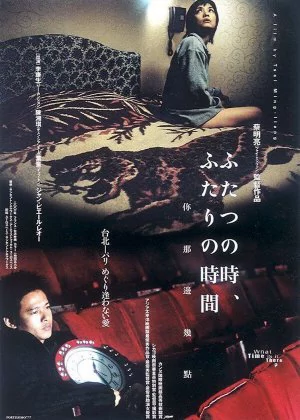 I've been rewatching quite a few Tsai's these past years, the bottom line is that most of them don't really seem to hold up. What Time Is It There? is no exception. I can still see why I liked this so much the first time around, but the sloppier finish (certainly compared to someone like Hou) keeps me from 100% enjoying them.
The day after his father dies, a young watch salesman meets a young woman. She tells him she is going to Paris, which breaks his heart. To commemorate their meeting, he keeps track of French time and watches French cinema. Meanwhile, his mother thinks her husband will come back to her.
There is quite a bit of humor here, the performances are good and the film has a pleasant flow, it's just that the visuals feel a bit too unpolished. I do like the long takes, but that means lighting, set design, and framing become even more important, and Tsai doesn't always deliver. Still, a worthwhile film, just not the personal favorite I remembered it to be.