Man Tam
2013 / 127m - Hong Kong
Crime, Comedy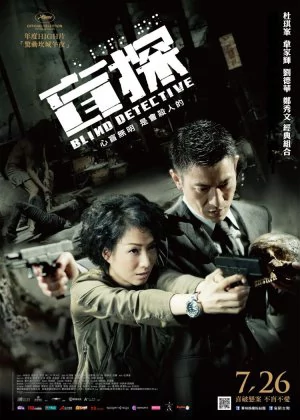 After a short time out in 2010, Johnnie To is back in full force. Western fans of the man didn't have to wait very long after the release of Drug War, just a handful of weeks later To presents his follow-up to Mad Detective, though it's a tad different from the straight sequel some may have expected. But no worries, hardcore To fans can rejoice as Blind Detective [Man Tam] feels like a genuine best-off, combining many aspects of his career into a single, explosive package.

Blind Detective is a strange, little beast. It holds some of the quirkiness of Throwdown, Sparrow and Mad Detective, it borrows the stylish crime setting of Vengeance and PTU, yet it also features the light-heartedness of some of To's mid-2000 comedies (think Lung Fung Dau). And maybe even more importantly, To finally reunites Andy Lau and Sammi Cheng, one of Hong Kong's golden couples of the early 2000's.
To didn't just set out to direct a sequel to Mad Detective, instead he evolved the detective's legacy into a culmination of 15 years of his signature style elements. While the plot roughly expands on the characters and story arcs of the first film, Ching Wan Lau was replaced by Andy Lau as the film's titular detective while Sammi Cheng was introduced as Lau's new partner. There is more room for comedy and romance this time around, yet the result is anything but a regular HK romcom.
From the moment Cheng bumps into Lau it's clear that the both of them make up the perfect detective duo. Cheng is strong and quick on her feet while Lau has a knack for solving puzzles. Cheng hires Lau to track down her childhood friend, Lau moves in with Cheng to teach her how to be a prime detective. The closer the duo gets to uncovering the story behind the disappearance of Cheng's childhood friend, the more obvious it becomes that there is a lot more to the case than they initially suspected.

Stylistically Blind Detective is a tasty melange of To's earlier work. You'll find the rich settings and swooping camera work from his more commercial films, combined with the more creative, playful visuals from the original film. The grandeur of the opening scene immediately bares To's intentions and even though the film keeps swaying a little between commercial and arthouse influences, the blend catches on pretty quickly. Good stuff.
As for the soundtrack, it's classic To. Quirky, upbeat tracks that feel just a little out of place at first, but give the film plenty of character on hindsight. As always, To picks a bunch of numbers I would never even have considered for a soundtrack, then again that's why I'm always so pleasantly surprised after I've watched one of his films. It's nothing I'd like to own separately, but as a soundtrack it works wonders and in the end that's what really matters.
Andy Lau is turning 53 this week, but seeing him on screen you'd think he was hardly a day over 40. If anything, he is still gaining charm. Cheng on the other hand is clearly ageing (maybe trying a little too hard to fight the hands of time), but when the two are together they still sparkle. Long-time To regular Lam Suet makes a small appearance, the rest of the cast is pretty solid too but fades away whenever Lau and Cheng appear.

Even though Blind Detective works up to a pretty straight-forward finale, the film as a whole is still pretty fragmented. Most mini-cases leading up to the big revelation are pretty stand alone and offer To the chance to jump from setting to setting, with little binding them together beyond the main story arc. Some scenes are near-slapstick, others are closer to the stylish detective work of the original film, a balancing exercise that is sure to deter some of To's less avid fans.
People who've been following To's work from up close will be sure to recognize the wide palette of his skills though, all wrapped into one single film. The package is stylish, quirky and fun at the same time. In the end I prefer To's more arthouse-oriented work, but a film like this is a welcome diversion, especially when executed so wonderfully. Not for everyone, but To enthusiast can't really go wrong with this one.