Heung Joh Chow Heung Yau Chow
2003 / 102m - Hong Kong
Romance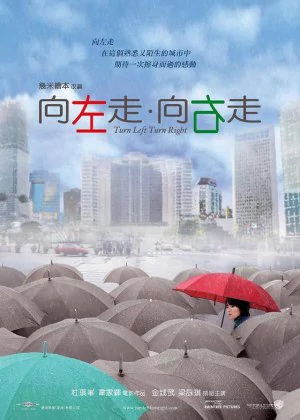 While slowly travelling back in time through Johnnie To's oeuvre I keep running into good films. I've already written reviews for PTU, Mad Detective and Sparrow before, now it's time to sample a film from To's more romantic/dramatic selection. Turn Left, Turn Right turns out to be a cute and little inventive film demonstrating To's broader range of directing capabilities.

Turn Left, Turn right is a combination of drama, comedy and romance served in equal portions. On top of that, it features some of To's quirky goodness that will either win people over or will pull them right out of the film. An essential part of any recent To film and more often than not a serious pitfall for unsuspecting audiences, so be warned.
"Even two parallel lines might some day meet". Though the film starts off with a poem which is revisited a couple of times during the length of the film, it's this little tagline (actually an ad featured during the film) that sums it up quite well. The two main characters live only a wall apart and live seemingly parallel lives, but fail to meet up. And when they finally do run into each other, fate plays a cruel trick on them and drives them apart again right after.
Takeshi Kaneshiro and Gigi Leung play a couple obviously meant for each other. Both are lost souls, drowning in their creative passion and left alone in a world where money is the driving force. When they meet up they find out that fate united them before, but little do they know it's coming back for seconds. Again they lose sight of each other while fate keeps setting them inches apart from each other, without ever letting them cross each other's paths.

It's a pretty cruel film where two soul mates are living the same life only breaths apart without ever meeting up. The film reflects this with parallel scenes and storylines. It's a bit of a surprise that To doesn't revert to using split screens to get his message across, yet he places his characters in the same building only separated by a single wall. This allows him to at least get them into the same frame on several occasions.
Visually the film is nice enough, though a little lifeless in some places. It's neither a straight comedy, nor a real drama and the choice of color is trapped between those two worlds. It would've been nicer if To had developed a bigger contrast between the two, using bright colors against a darker setting. Still, there are plenty of nice shots, To keeping his camera high and far, allowing for plenty of symmetrical and parallel views.

The soundtrack is nice and quirky, which is another typical To thing. Not really the kind of music you'd expect, though it works really well within the film. Acting is decent although I must admit I've seen better roles from both. The supporting actors are actually more fun to watch, but that might just be due to the more frivolous nature of their characters.
Turn Left, Turn Right is a simple, light-hearted drama, but conceptually quite strong and pure. The film demands that you go along with its concept and leave it at that. The story is extremely unlikely and heavily constructed, and those wanting a more realistic plot will be quite frustrated. To's world is governed by To's laws and those are all in function of the basic premise. Accept this and you'll find an endearing and sweet but quite cruel romantic film. Not among To's very best but still highly entertaining and fun to watch.