2010 / 118m - USA
Sci-fi, Action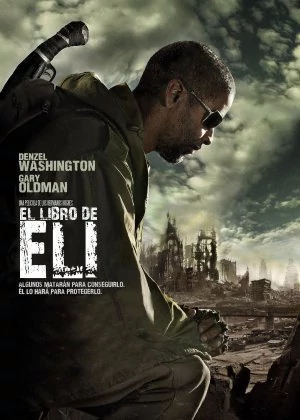 The Hughes brothers don't make too many films (it's already been 9 years since From Hell), but when they immerse themselves in a project the end result is often worth pursuing. As proven by their latest film. The Book Of Eli turned out to be a superb post-apocalyptic action flick, borrowing royally from various other sources but fine-tuning the mix to make it into something unique. This is Hollywood at its very best.

There aren't too many Hollywood films that dare to please their audience by gamble on atmosphere and styling alone. Luckily rules are made to be broken and the Hughes brothers take this concept a long way beyond any local competition in their latest film. From the initial trailers and promo material it became obvious this was going to be something special, the complete film more than delivers.
Reliable sources link the film to the Fallout games, both in style and setting. I haven't played these games so I can't really comment on that, to me it felt more like a modernized version of Fist Of The North Star (without the mutations). Ruins, biker gangs, vigilantes and a surprisingly mellow background theme contrasting with the rest of the film. This time around not ecological in nature, but targeted at religion.
The titular book is of course the bible, a book than was banished after "the big war". Denzel Washington's character (Eli) is sent to deliver it out West, other individuals are after its powers, wanting it for their quest for souls which would grant them more power over their followers. This leads to a grim confrontation between Eli and a town gang which is aware of the book's powers.

From the very first frames the visual excellence of the film is apparent. Wonderfully desaturated colors are used throughout, often accompanied by dark shadows and grim surroundings. The post-apocalyptic world is not a nice place to reside in, that much is certain. Action sequences are impressive too, with some very nice touches camera-wise and some impressive settings.
The soundtrack too is rather bold and striking. The Hughes brothers don't try to hide the music and while not every track works as well as intended, at least the music gives the film some extra shine and identity. It's nice to see Hollywood directors take such daring choices for a change.
The acting is pretty solid too. Playing a cold-blooded, hard-assed individual comes rather naturally to Washington, the role of nasty and evil town ruler is perfect for someone like Gary Oldman (just think Leon). Even Kunis has a rather nice role to fulfill here, so that's all good too.

Even though the topic of the film is rather religious, to me it never came off as propaganda of any sort. While the film definitely follows a pro-bible perspective, it felt more like a story to tell rather than a statement to make. If you've got a thing against religious topics this might be somewhat of a hurdle, but I couldn't be bothered by it (and I'm not religious at all).
The ending is rather mellow and predictable, but by then the solid atmosphere, superb visuals and great use of setting had already convinced me I was watching a good film. It's not really my preferred type of ending but one that can be expected coming from a film produced in these cinematic regions. One thing that did annoy me though was the somewhat Western-like halt the film makes in the village. I would've preferred more of a road movie construction rather than a Western-influenced story progression.
That said, The Book Of Eli is definitely one of the best things I've seen coming from Hollywood this year. It's all style and atmosphere, wonderfully executed and well acted. There are definitely parts that could've been handled better, but they never got in the way of the experience this movie is delivering. Definitely recommended.