Chin Do
2010 / 95m - Hong Kong
Drama, Romance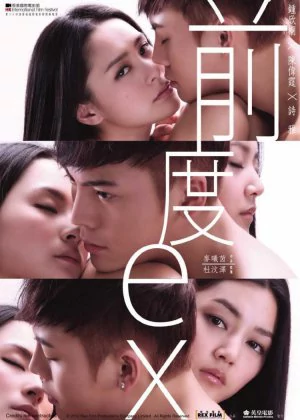 Ex is a film that will pass many people by just because there aren't too many points of interest lying directly on the surface. At best it looks like decent filler for fans of glossy Hong Kong dramas and there simply aren't too many of those around. But right below the surface there's a lot more brewing than you might initially suspect, making the film one of the more interesting Hong Kong outings of 2010. Most praise goes to director Heiward Mak for making it happen.

If Heiward Mak doesn't ring a bell it's probably because you missed my High Noon review. Mak already showed considerable glimpses of her talent in her first film and seems to be perfecting them here. While Ex isn't without its own set of shortcomings, it offers something you can rarely find within Hong Kong cinema: a set of natural characters and believable drama.
The film centers around Zhou Yi (Gillian Chung's character), who just broke up with her latest boyfriend and finds a place to crash with ex-boyfriend Ping. While she doesn't really plan on messing up his relationship a couple of flashbacks make it clear that the relationship ended on stubbornness rather than lack of love. Something is still brewing between the two, even though they won't admit it to themselves. An interesting triangle forms which starts to evolve in a rather unconventional way.
The film mixes flashbacks of their past relationship with their reuniting. While this creates a natural preferences for Yi and Ping as a couple the both of them aren't exactly a perfect match, nor perfect individuals. This is where the film distinguishes itself from most other romantic dramas, which usually take on a more traditional good/bad perspective on relationships. The relationship between Yi and Ping is way more complex and vague than initially sketched.

Mak chose a rather clean and safe visual style for her latest film. It's not as wild or eccentric as High Noon, but it fits the main characters who progressed from teens to people who are in their mid-twenties. The camera work is still somewhat agile and active but it all looks very controlled, slick and polished. The flashbacks show a bit more youthful enthusiasm but within the set boundaries of the current setting.
The soundtrack is a little more outspoken compared to High Noon. The subdued background music is replaced with a dash of alternative pop that takes a prominent place in several scenes. While it shifts the film in a more definite direction I'm not really fan of the music used here and Hong Kong films using English-language pop music do come off as a little awkward. Maybe I'm just not very used to it, but I would've preferred a slightly tweaked score.
The acting is surprisingly solid though. While the cast looks a little over-glossy on paper (and on film for that matter) they succeed in bringing their characters to life, which is really essential for this film to work. Mak uses her actors wisely and pulls some very commendable performances from them, showcasing the unseen potential of some industry oldtimers to the rest of the world.

Mak's latest reveals its true charm at the very end of the film. While Ex starts off as a regular romantic drama, throughout the course of the film small hints are given towards a broader and more natural look at relationships. The ending fits perfectly well from that point of view and leaves the viewer with mixed emotions. If you like romantic films for the gooey and mushy scenes that provoke teary-eyed reactions, be warned that this film might feel a little unsatisfying.
Heiward Mak further establishes her image as a director of natural dramas surrounding the younger generations of Hong Kong. All in all her subjects are maybe a little too perfect-looking for such a film, but she goes on to prove that (modest) poverty is not a must and that people of means are a little more than simple money-driven outer shells. She brings a level of realness to the setting which is unique even outsides the confines of Hong Kong.
Ex is a film that shows the good and the bad. The main characters are not all that lovable, nor are they horrible people. They are merely human, making mistakes, sometimes rectifying them and otherwise just going on with their lives, trying to do better than before. Heiward Mak is sculpting a neat little niche for herself, hopefully others will follow in her footsteps.