2018 / 81m - Reunion
Fantasy, Mystery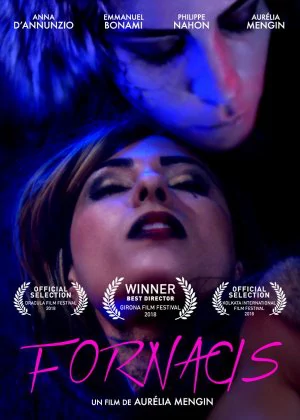 In the category "films that slipped under the radar", let me present you Aurélia Mengin's Fornacis. Usually, I'm a bit angry and perplexed whenever I hit a (relatively) recent film that completely escaped my attention, but in this case I guess it was almost inevitable. Mengin put herself on the very edge of arthouse and genre cinema, seemingly unwilling to make any concessions. There simply isn't much of an audience for films like Fornacis, so unless all the stars align a film like this is pretty much doomed to slip into oblivion. All the more reason to give it some extra attention, so if you're interested make sure that you buy/rent the film at Amazon UK.

Aurélia Mengin has been pretty busy this past decade. She directed a couple of short films, also collected acting, writing, art direction and producing credits for them, she founded a film festival, and she's also the first Reunionese woman to direct a feature film. Just to say that Mengin lives and breathes cinema. It's probably this mix of persistency and independence that granted her a bit more leeway than most other directors would've gotten, as it's really hard to believe someone actually greenlighted her Fornacis project. Not that you'll hear me complaining, those are often the most interesting films, but it sure was a big risk.
If I made a conscious effort to pigeonhole Mengin, I guess I would say she fits in with a group of female French directors who have been exploring the overlap between genre and arthouse cinema in recent years. Women like Julia Ducournau, Coralie Fargeat, Hélène Cattet and Lucile Hadzihalilovic. Mengin appears to be taking things a little further, completely foregoing any kind of traditional narrative while staying clear from things that would make her film too contemplative and highbrow. There's a big chance this particular combo will alienate both arthouse and genre audiences, but then there's also a small niche who lives for this type of cross-over.
As for the plot, I'm not even sure what to write. There's a relatively easy discernible narrative about a woman who mourns the loss of her lover, which forms the core of the film. She drives around with an urn on the car seat next to her. Looking for comfort, she ends up in bar Fornacis, where she meets Wolf. He's also hurting inside and the two find comfort with each other, though it's quite short-lived. While that sounds somewhat coherent, don't expect a traditional narrative here. Fornacis offers several setups that help to visualize the theme of the film, rather than serve a full-blown story.

Fornacis is a film that thrives on atmosphere, so the audiovisual elements are detrimental to the film's success. Cinematographer Nicolas Bordier (in close collaboration with Mengin herself, as the end credits show) does a pretty great job, though he can't quite hide the film's budgetary limitations all the time. The bold use of color, expressive camera work and nifty editing give Fornacis a strong identity that seamlessly blends elements from different eras. Slightly more polished camera work could've pushed the style even further, but if you like bold visuals Fornacis won't disappoint.
The score too is optimized for atmosphere. Mengin is eager to let the music play a big part in the experience and pretty much every scene comes with a distinct and leading background track. The score as a whole isn't super coherent, the only constant being that the songs all seem to have some electronic influence, but all the tracks are tightly fitted to the scenes and there's not a single one that fades away into the background. Combined with the exaggerated sound effects and the loud visuals it creates a perfect audiovisual experience that sells the film.
Playing the lead while also directing is always a bit of a gamble, but when you're doing a film as abstract and puzzling as Fornacis, it can make things a lot easier. Rather than try to explain and get the exact performance you want from your lead actor, it's often better to simply do it yourself. Mengin is a gifted actress and her performance makes sense here. The rest of the cast is solid too, though they're all playing in support. Fans of French (horror) cinema will be happy to recognize Philippe Nahon, in what would turn out to be one of his final performances.

Fornacis is split in 7 distinct chapters. Each chapter handles a different stage of the mourning process and only tangentially relates to the others. That disconnect may turn off some viewers, but it's quite essential to the theme of the film and Mengin does manage to keep everything part of the same universe, so it's not like watching 7 separate short films stitched together. More importantly though, Fornacis is a film that hinges on mood and atmosphere. If you manage to submerge in Mengin's world, then it's a formidable trip worth taking. If not, you won't get much out of it regardless.
Fornacis is my kind of cinema. A perfect blend of the artsy and the fantastical, an experience rather than a narrative, a film that uses everything at its disposal to create something unique. It's certainly going to be a divisive film and unless you're more or less in sync with Mengin's intentions it might require some effort to get to the end of it, but films that dare to be different deserve to be cherished. Mengin is a tremendous director and I hope she'll continue to make more films. For now though, let's just try to make certain Fornacis finds the loving audience it deserves.