2015 / 80m - Russia
Mystery, Horror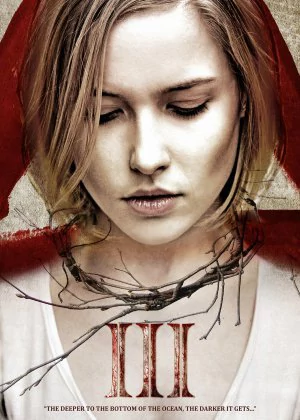 There's something brewing in Russia. After the insane action fest that was Hardcore Henry, I recently bumped into another interesting niche film that managed to rise well above its own limitations. Pavel Khvaleev's III (III - The Ritual) is a mystery/horror film that bets high on concept and atmosphere, possibly alienating some traditional horror fans along the way, yet sure to win over those who value films with strong and unique identities.

Even though Russia has a very respectable cinematic past, it's never really been the go-to country for great genre cinema. Horror films in particular are largely absent from their local produce. That said, Russian horror isn't a complete novelty. In 2007 Pavel Ruminov's Dead Daughters turned a couple of heads and Andrey Iskanov's Visions of Suffering is another "recent" attempt, though more on the experimental side of things. The fact that both films are almost 10 years old though does illustrate their general lack of interest.
Mind you, III isn't a very typical horror film. It doesn't fall into any one of the established horror niches and fans of classic horror thrills, gore and/or tension should probably lower their expectations. The film comes with a hefty injection of fantasy and mystery, though the grim and twisted undertone comfortably catapult it into the realm of horror cinema. Add to that some pretty freaky creature designs and it's difficult to contest III's genre classification.
III follows two young sisters (Ayia and Mirra) living in a small Eastern Europe village. Their town is hit by a mysterious disease and people are falling left and right. When their mother succumbs to the plague, the two sisters are left in the care of a local minister. Soon after, Mirra, the youngest of the two, also falls ill and the minister has no choice to muster up some old Shaman rituals in order to try and save the sisters from their demise.

III relies heavily on visual atmosphere to draw people in. And while at times its budgetary limitations do shine through, if only just a little, the film looks pretty damn amazing overall. Superb shots making the most of their setting, great use of color, strong framing and some splendid creature effects all add to the mysterious, ominous atmosphere III chases down. Some effects and filters softened the image quality a bit too much, but I can't say it really bothered me either.
Even though Khvaleev is just starting out in the film business, he has already earned his stripes as a veteran musician. And as is often the case, the film really benefits from that. Khvaleev is half of Moonbeam, a Russian electronic DJ/producer duo that's been around for a good 10 years now. The soundtrack reflects that. Ethereal voices and crunchy beats and breaks add tons of atmosphere of their own, making III an impressive audiovisual experience. It's exemplary of how a good, tailored score can improve the overall quality of a film.
The main cast is small and consists of semi-pros and starters only (a grand total of three actors), but they all put in solid performances. They won't be winning any acting awards soon, but for a first film it more than suffices and as III relies mostly on atmosphere and audiovisual prowess anyway, I really can't fault the cast. They did what needed to be done and that's plenty for a film like this.

III is a film that sprouted from Khvaleev's experience working on his own music videos. Together with his wife (story and script) and DJ/producer/friend Frank Ellrich he nurtured this project to fruition. And in everything you can feel III is really one of those films. A very small crew, a small budget but tons of ardor and passion that helped to overcome all the limitations and challenges laid before them. Sometimes these films end up complete turds, but the ones that do succeed are some of the best available.
Pavel Khvaleev is a talented director, no doubt. The world created in III is mystical, mysterious and eerie. The story is merely an excuse for some fantastical set pieces and superb audiovisual journeys into the minds of the protagonists. The result isn't as shiny and slick as most big budget productions, even so the film looks damn impressive. III might never find a broad audience, but it's very well capable of becoming a niche favorite. Anyone with a taste for the unique and occult should definitely check it out.