2004 / 118m - Japan
Drama, Comedy - Anthology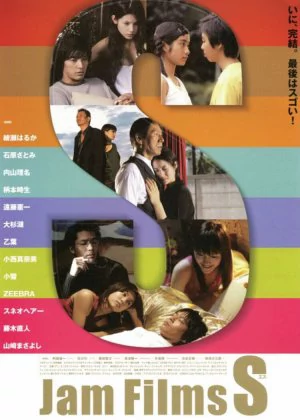 Jams Films S is the third and final instalment in a respected series of Japanese anthology films. The Jam Films anthologies were established to help unearth young and talented Japanese directors, 10 years later we can safely say they completely failed in their mission(as almost none of the directors involved in the Jam Films series made it big). Nonetheless, the series did yield some very worthwhile anthologies. Even looking back at them now, they haven't lost too much of their shine.

Jam Films S takes a rather mediocre start though. The idea behind Kenji Sonoda's Tuesday is solid enough, with a guy creeping through other people's apartments and looking in on their lives, but the execution is clearly lacking. Image quality is poor, camera work subpar and even the editing doesn't do the film any favors. It's a shame because the idea is rather fun and playful, but the short as a whole doesn't leave a big mark. Not the best way to start an anthology. 3.0*/5.0*
Luckily there's Ryuichi Takatsu's Heaven Sent, a short that knows how to make the best of its limited running time. Heaven Sent features the always cool Kenichi Endo as a contract killer, revived by a fallen angel. What follows is a rooftop conversation between the two that will alter the course of both their lives. The short looks stylish, the acting is up to par and the setup is intriguing. It's also the short that most closely resembles the work of Ryuhei Kitamura, who produced all 7 shorts. 4.5*/5.0*
Up next is Hitoshi Ishikawa's Blouse. The film features a very modest and simple setup about a blossoming relationship between a drycleaner and one of his loyal customers. Koyuki and Ren Osugi do a solid job, a series of small, poignant moments do the rest. On paper it's one of the dullest shorts of the bunch, but Ishikawa does a terrific job bringing this one to life. If you're into Japanese (romantic) dramas, this is the one to look out for. 4.0*/5.0*

The most un-Japanese short of the anthology is without a doubt Ryo Teshima's New Horizon. At times it feels like a weird Jeunet clone, somewhat resembling Delicatessen's setup, with several odd stories and slightly surreal characters intersecting within a single building complex. The foreign actors are a little flaky and Haruka Ayase feels a little lost in between all the weirdness, but it's a pretty fun short regardless and definitely one of the most memorable ones of the entire anthology. 3.5*/5.0*
Yuichi Abe's Suberidai is another timid, but slightly more light-hearted drama, somewhat in line with Blouse. It follows the reunion of two teens, after a near-fatal accident drove them apart. With the girl moving away to another village, she tries to make amends before it's too late. It's a cute little short with one of the best endings of the bunch, though it would've benefited from a bit more stylistic finesse. Even so, Suberidai is a pleasant diversion that helps to fleshen out the anthology. 3.5*/5.0*
Good isn't good enough for an anthology though, so Daisaburo Harada's Alpha comes at the right time. It's a fun and stylish look into the future with just the right amount of awkward thrown in. Thematically it's a typical reflection on the effect clones would have on our everyday life. While it doesn't offer any amazing new insights, it does come up with some novel angles and interpretations. It's well acted, the film looks good and Harada established a nice universe in the limited time he's given. 4.0*/5.0*
Ending Jam Films S is Masaki Hamamoto's Suit, a funny take on what it must feels like to be a country's chosen hero. The CG is a bit shady and post Dai-nihonjin Suit just isn't as funny as I remembered it to be, but it's still a pretty amusing short with a pretty daft premise and a couple of harmless laughs. It probably isn't the ideal way to end a film like this, but still a worthy entry. 3.5*/5.0*
Japan's animation anthologies tend to bring together the best in the genre while their live-action counterparts are more concerned with finding new talent. It isn't surprising then that their animation anthologies are better equipped to stand the test of time. Even so, Jam Films S still proved to be a very fun, diverse and surprising collection of shorts. It lacks a second stand-out short, but there aren't any truly weak entries and each short brings something interesting to the table. Definitely worth watching if you're into anthologies.