1980 Nian Dai De Ai Qing
2015 / 105m - China
Drama, Romance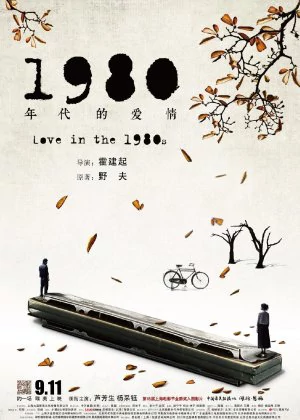 Even though China's box office figures are currently overtaking Hollywood's, the attempts to raise the international appeal of Chinese cinema have been mostly in vain. Apart from some classic arthouse fare (think Zhangke Jia and Yi'nan Diao) the West just doesn't seem to care. It's a shame because China is producing some worthwhile films. Point in case Jianqi Huo's Love in the 1980s [1980 Nian Dai De Ai Qing]. Not the most dashing of productions, but a beautiful romance nonetheless.

Jianqi Huo is a pretty inconspicuous director, which in part explains why nobody has picked up on his latest yet. While some of his older films did enjoy a Western release (Nashan Naren Nagou and Sheng Huo Xiu were both lucky enough), Huo seems to lack a certain authority, something that makes him stand out from the crowd and has you looking forward to catching his next film. Sitting down to watch a new Huo is always somewhat of a struggle, even though he's proven time and time again it shouldn't be.
In Love in the 1980s, Huo revisits the setting of Nashan Naren Nagou, though theme-wise it feels more like an early Yimou Zhang film. Set in a rural mountain village, the film explores the rekindled love of two old classmates who are stationed in the same town. While Huo keeps a clear focus on the romantic part of the story, old China politics heavily influence the outcome of the romance, lending the film some political weight (though it seems to restrain from being too critical).
After graduating, Guan Yubo is shipped off to a small village close to where he grew up. Much to his surprise he bumps into Cheng Liwen, a former classmate who now runs a shop in town. Yubo has always had a thing for Liwen, but he never dared act on it before. Certain not to let Liwen slip away again, he tries everything to court her, yet Liwen is reluctant to answer his advances. Not because she doesn't love Yubo back, but because he is poised to leave the village again once his assignment is over.

Huo's previous films had visual flair, but he's still making great strides forward with Love in the 1980s. Even though the film is set in a rather poor, non-luxurious environment, it couldn't be further removed from typical poverty porn cinematography. Instead Huo finds great beauty in nature and plays with strong color contrasts to accentuate the beauty of the village and its surroundings. Exquisite use of lighting, vivid colors and gentle camera movements complement the setting and make for a stunning-looking film.
The soundtrack is pretty interesting too. Overall it's still quite predictable (it's a Chinese drama, so expect piano and string-based music with slight folk influences and ethereal vocals to seal the deal), but there is also an element of surprise there. While still very much in line with the rest of the music, Huo uses a couple of ambient tracks to diversify the sound a little. The timing of the ambient pieces is perfect and even though they're used sparingly, they manage to add a lot of emotion to the key scenes.
Rather than rely on seasoned actors, Huo found two newcomers to fill in the lead roles. They do a great job, but I'm not quite sure if their lack of experience added anything in particular to the film. It wasn't until I peeked on IMDb that I found out they had no prior experience in feature films. Yang Caiyu and Fangsheng Lu both do a pretty great job though and their performances are more than capable, so there's really nothing to complain about.

I am notoriously bad at catching pro or anti-Chinese government sentiments in films, so I'm not going to comment on it too much, but since China's political system plays such a large part in the outcome of the romantic relationship that I believe it's fair to stress that message-sensitive viewers will either find the film extremely touching or extremely deplorable, depending on their own beliefs. I'm just going to keep the boat in the middle and judge the film on its romantic premise, but know that the film offers a little more than just a simple romance.
If you're familiar with Chinese dramas then you'll feel right at home watching Love in the 1980s. While there are some welcome updates, like a slightly modernized score and stronger visuals, the film plays out like a oldskool mix between Nashan Naren Nagou and early Yimou Zhang. It's a strong drama with solid performances and a touching romance, made by an accomplished director, but I doubt the film will do much for Huo's international recognition. Not because it lacks quality as such, but because it lacks any real defining qualities. Still, if you like Chinese dramas this film is a definite recommend.