Chiisana Eiyu: Kani to Tamago to Tomei Ningen
2018 / 53m - Japan
Fantasy, Drama - Animation, Anthology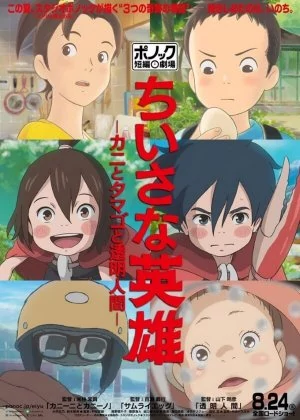 The king is dead, long live the king! For years Studio Ghibli dominated the anime scene, so when news broke that they were going to stop producing feature films many were left in shock. But from Ghibli's ashes Studio Ponoc rose up, spearheaded by some of the remaining Ghibli artists. And even though they have quite a way to go before matching Ghibli's status, it's clear that they are enjoying their newfound freedom. Modest Heroes [Chiisana Eiyu: Kani to Tamago to Tomei Ningen] is the first in a trilogy of anthology films, meant to showcase the talent working at Studio Ponoc. And that it does.

Anthology projects really are the perfect format for a young studio that wants to prove its worth, as it allows them to work on multiple ideas while releasing them in less risky bursts. Studio Ponoc already put out a feature film (Mary and the Witch's Flower), though it failed to meet expectations exactly because of that strict Ghibli legacy. With Modest Heroes they're slowly but purposefully leaving that legacy behind, a move that will hopefully give them the fresh start they so desperately need.
The first short is Kanini and Kanino [Kanini to Kanino] by Hiromasa Yonebayashi, the only director in this anthology that held a directing position at his former employer. With The Secret World of Arrietty and When Marnie Was There he already left his mark, but it's nice to see what he can do without Miyazaki and his gang looking over his shoulder. Kanini and Kanino is probably the short that lies closest to Ghibli's trademark style, so it's not a bad place to start for Modest Heroes.
The story involves a clan of small human-like creatures, living in a small forest stream. They're little hunter-gatherer type folk, with simple communication skills and little in the way of tech to help them out. When a storm washes Kanini and Kanino's father away, the two decide that its time to stand up for themselves, as they follow his trail in a courageous attempt to rescue their dad. The animation is slick, the soundtrack nice and the use of 3D tech refreshing. It's probably the weakest of the three shorts, but only because it's the most familiar one. Even so, the quality is high and time flies by. 4.0*/5.0*

The second short is from the hand of Yoshiyuki Momose, a long-time Ghibli animator sporting an impressive resume (his work includes Grave of the Fireflies, Spirited Away and Porco Rosso, among others). Samurai Egg [Samurai Eggu] most resembles Takahata's My Neighbors the Yamadas though, with its typical pastel/watercolor-inspired look. It's also the most gentle and humane of the bunch, again linking him more to the Takahata side of Ghilbi.
Samurai Egg deals with the hurdles of a seemingly trivial ailment. Shun is a little boy who happens to be allergic to eggs. While it sounds almost comical, his allergic reaction is severe enough to be life-threatening. Eggs are a very common ingredient, meaning that every meal is a potential death trap. Fun fairs, school trips and a quick afternoon ice cream all pose risks that can turn a calm and pleasant day in a panicky trip to the hospital. Samurai Egg is a beautiful short, simple but elegant and extremely respectful of its characters. Add to that the stylish animation and you have a real winner. 4.5/5.0*

The third and final short is directed by Akihiko Yamashita, another former Ghibli animator sporting an impressive record (including credits for Ponyo, The Wind Rises, but also Serial Experiments Lain). It's maybe not such a big surprise then that this episode is a little darker compared to the preceding ones. While safely within the realm of the acceptable, the grey and grim color palette makes it quite different from what you might expect to see here.
The premise of Invisible [Tomei ningen] is a classic one. An invisible man goes through the day without anyone noticing him, storybook symbolism that has been done to death. But Yamashita still finds a way to give it a refreshing spin and the animation style, in combination with some wildly impressive chase sequences make sure that you'll find it very easy to forget the somewhat plain setup. While not the most original of the bunch, it is the short with the most distinctive look and the wildest animation, which is definitely a plus in an anthology project. 4.0*/5.0*
Modest Heroes is the perfect start in a series of three anthology films. It distances itself enough from its former employer, without losing touch with them completely. Don't expect Studio 4°C madness or shorts that challenge the idea of what anime can be, instead you can expect quality across the board with touches of originality left and right, in order to keep things interesting. It's a pleasant, easy and slightly challenging watch that leaves you wanting more.