Nasu: Summer in Andalusia
Nasu: Andalusia no Natsu
2003 / 46m - Japan
Sport - Animation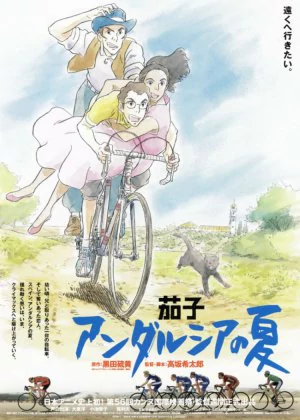 It's Vuelta time. With the 3-week Spanish cycling Tour well on its way, what better film to watch than Kitaru Kosaka's Nasu: Summer in Andalusia [Nasu: Andalusia no Natsu]. Anime might not be the most obvious choice when you're looking to appease your film/cycling fix, but it turns out to be one of the best. It's been a while since I watched the first Nasu film, turns out it has lost little of its shine over time and it hasn't concede its crown of 'best cycling film' yet.

Cycling is not an easy sport to translate into a feature film. Even though races are long and dramatic opportunities are plentiful during a 3-week cycling tour, races are often decided in mere minutes, the rest of the race is spent consolidating a lead or working hard to take back the escapees. As a sport it's a great mix of tactics and physical endurance, but looking at the groups battling for seconds miles on end doesn't make very interesting film material.
Point in case Dante Lam's Po Feng [To the Fore], a rather poor attempt to make a cycling drama. It felt more like a dramatized introduction to the sport rather than a film centered around a couple of cyclists. All the more surprising that a short anime like Nasu manages to do everything exactly right. The race part is exciting, almost believable (there is some slight dramatization, probably needed to get some things across to people not familiar with the sport) plus it comes with some very nice drama on the side.
The film follows Pepe, a young rider for a Belgian team. His team's sponsors want him out because he's not winning enough, but with a finish in his home town Pepe is extra motivated to take center stage in one of the biggest tours in the world. It's a blistering hot day and the peloton is dragging its feet, so Pepe take off and leads a break of 6. Meanwhile, Pepe's brother is getting married nearby, when he sees Pepe is leading the break he quickly decides to move his wedding party to the finish line.

Kitaro Kosaka learned the trade at Ghibli and it shows, although not too explicitly. There's something in the character designs that gives off a slight Ghibli fragrance, without them being a downright copy. The backgrounds feel a little empty at times and the 4:3 ratio is slightly disappointing, but the animation is gorgeous. It may not be abundant, but the way the peloton moves and slithers across the road is extremely convincing. There is some CG involved there, but it is very well hidden and the hand-drawn style persists throughout. The film was clearly made on an OAV budget, but the result is impressive and rises above its budgetary limitations.
The soundtrack is equally nice. A combination of more traditional drama music (strings and pianos mostly) and typical Spanish sounds, inserted to give the music some additional colour locale. It's not a very memorable or demanding soundtrack, but it does add something to the warm, somewhat lazy atmosphere already present. The voice acting is on par with the better anime releases too, with no sign of an English dub to ruin things for unsuspecting DVD hunters.

Even though Nasu is only 45 minutes long, it never feels flimsy or shallow. Kosaka did an excellent job inserting some depth and drama with very short but telling moments. There is a history between the two brothers, there is also a lingering romance, there is the wedding going on and Pepe's lack of job security that pops up halfway through. And Kosaka manages all that with very little exposure or needless explanation, all to make sure there's enough time left for the actual race.
Nasu is a great seasonal film. Its summer vibe is tangible, it coincides with the Vuelta and it gives one of the best depictions of cycling ever caught on (fictional) film, let alone animation. On top of that, it also serves some worthwhile drama. The animation is solid, the voice acting is great and the film feels a lot meatier than its 45 minute running would give away up front, without ever becoming too laden or demanding. Just tack on Nasu: Suitcase no Wataridori (the follow-up) and you're set for 90 minutes of summer fun.