Zai Shijie De Zhongxin Huhuan Ai
2016 / 137m - China
Romance - Anthology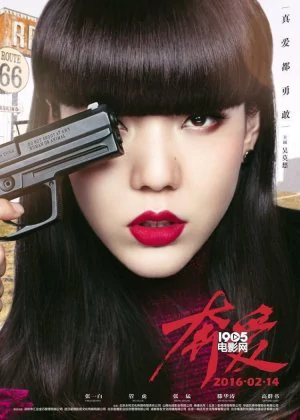 The anthology film concept isn't all that popular in China (yet), but Zai Shijie De Zhongxin Huhuan Ai [Run for Love] might give it a fair little boost. When three of China's biggest directorial talents (Qunshu Gao, Hu Guan, Yibai Zhang) were coupled with two up and coming directors (Hua-Tao Teng, Meng Zhang) and were asked to each direct a short about a couple in a foreign country, there was very little that could go wrong. And so it happened.
I guess you could say Run for Love is the spiritual successor of About Love, a somewhat recent Pan-Asian anthology project showcasing three Asian (Japanese, Chinese, Taiwanese) directors all doing a local love story. Even though this film shares a strong thematic connection (and a director, Yibai Zhang is part of both projects) with About Love, the concept was turned on its head. This time around five Chinese directors set out to direct a love story in a foreign setting.
The film opens with Yibai Zhang's segment, a small but endearing love story set in Otaru (Hokkaido) Japan. Otaru in winter is the ideal setting for a cozy, cuddly romance and Zhang is the ideal director to pull it off without things becoming too tacky or sentimental. Eddie Peng and Ziyi Zhang (didn't even recognize her at first) make for a nice couple, the setting does the rest. There's a small twist near the end that's a little predictable, but it hardly takes away from what's basically a sweet and warmhearted introduction to the anthology. 4.0*/5.0*
Second in line is Hu Guan's segment, set in Istanbul, Turkey. It's a much livelier short about an older couple visiting the city with their daughter. While they're wrapped up in one of their fights, the young girl wanders off and joins a group of Turkish kids. What follows is a search that will hopefully reunite both groups. It's a colorful and fun film, though the contrast between both parties (the fearful and quarrelling parents vs fearless and carefree kids) is a bit divisive. The thematic density is rather high too, luckily Guan still manages to keep it light and vibrant. 4.0*/5.0*

When China is doing an anthology with each short set in a different country, there's no way the USA would be skipped. Meng Zhang's film isn't the most topically daring either, with a road trip from east to west following route 66. But the beautiful cinematography coupled with a great central duo royally make up for the somewhat tepid premise. Wang Qianyuan does a solid job, though it's Wu Mochou who ends up being the biggest discovery of this entire anthology, successfully ridding herself of her rusty pop idol image. Not the most original entry in the anthology, but a damn effective one. 4.0*/5.0*
Hua-Tao Teng's short is the exact opposite. Set in Norway and sporting a rather novel premise, the film itself feels a little dim and lifeless. Michelle Chen plays a Chinese nurse traveling to Norway to work in an elderly home. The home is in a valley, the surrounding mountains blocking the sun all winter. When Chen's favorite patient's health is quickly declining, Chen's Norwegian suitor comes up with a plan to make life a little better for the folks in the village. While an okay idea and tastefully shot, the fact that everybody talks English (even the Norwegian characters amongst each other) is weird and the central romance is a little stale, with too much attention going to the plot rather than the relationship of both protagonists. It's not a bad short, but surely the worst of the bunch. 3.0*/5.0*

The biggest surprise is kept for last, though those in the know should foster at least some expectations when they see Qunshu Gao listed as director. The final short is set in Saipan and features a high-concept plot about two competing lovers meeting up after the dead of their shared romantic interest. Saipan makes for a stunning setting and the sharp, more abstract styling of the short is a nice change of pace for the anthology. Zhou Dongyu and Tong Liya do a great job and the short's finale is one that lingers. No doubt my favorite short of the five. 4.5*/5.0*
Gao's entry is essential as it adds some necessary edge to this anthology. The first three shorts are nice and effective, but they play it rather safe (whereas this platform is ideal for a little experimentation). Overall Run for Love is a great film though and a solid introduction for those interested in Chinese (romance) cinema. There are no weak shorts, one exceptional piece and enough variation to breeze through its 140 minutes running time. Finding it will probably be the toughest challenge.