2005 / 102m - Japan
Romance - Anthology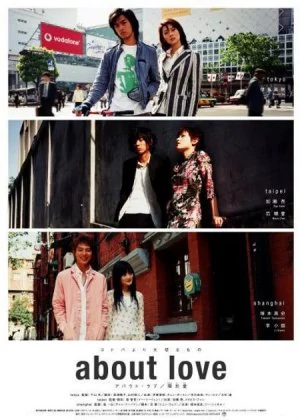 Even though the West likes to group all Asian cinema together, there actually aren't that many Pan-Asian film projects out there. The few that are, are usually anthology films where each director does his own thing in his home country. About Love pretty much fits that description, though the language (and cultural) barriers do play a bigger part in each of the three shorts comprising About Love. The result is pretty damn cute and endearing.

While anthology projects are quite popular in Asia (Genius Party2, Taipei 24h), the thematic ones are usually restricted to horror cinema (Rampo Jigoku, Tales form the Dark 2). Even then the concept and atmosphere of individual shorts can vary wildly between the different entries. Romance anthologies are much rarer (the only one I can think of right now is Juliets), yet About Love does set out a pretty strict outline for all three shorts.
Each short serves a romance between a native girl and a foreign boy. Language barriers play an important part as each pair tries to find their own way to communicate with each other. While some shorts are just a tad more dramatic than others, the prime focus of the anthology is clearly romance, though none of the shorts venture into unbearable sentimentality and they all apply the necessary subtlety to reach their goal.

The first short is directed by Ten Shimoyama (Blood, St John's Wort). Romance isn't really Shimoyama's cup of tea, but I must say he delivers a pretty interesting short nonetheless. Yao is a young boy who moved to Tokyo to learn how to draw comics. A classmate of Yao tries to couple him to a Chinese girl, but Yao is more drawn to Michiko, a paintress who is recovering from a failed relationship. Unable to talk to her directly, Yao leaves her quick portraits that, put together, form a cute, little animation. The short is pretty simple and direct, yet contains a fair few sweet and endearing moments and a more than fitting finale. It may be the weakest entry of the anthology, but it's still a great film that's merely bested by the other two entries.
Up next is Chih-yen Yee's short, set in Taipei. Yee's short is even more centered around language barriers, with A-Su (Mavis Fan) and Tecchan's (Ryo Kase) pretty much completely unable to communicate with each other. A-Su is trying to get over her past boyfriend and orders Tecchan to come and help her finish a bookcase she built. While the two are obviously attracted to each other, A-Su is unable to get her ex-boyfriend out of her head. The Taipei segment is a classy balancing act between drama, comedy and romance, with one scene in particular (the one on the beach) mixing all three into a perfect blend. Yee delivers a sweet, loveable and adorable yet down-to-earth short that sits well in the middle of this anthology.

The final short is from the hands of Yibai Zhang (Lost Indulgence, Spring Subway, Eternal Moment), a true master when it comes to romantic cinema. And it shows, as Zhang's short is clearly the best of the three. Set in Shanghai, it follows the hidden adoration of a young Chinese girl for a Japanese student who rents out a room in her mother's house. There's just enough drama to enhance the romance, while still keeping a very sweet and light-hearted atmosphere. It's visually enchanting, well acted and set to a modest but very fitting score. A perfect ending for a superb anthology.
If romance isn't your thing this anthology probably isn't going to persuade you, but within the genre this is definitely one of the better offerings out there. All three shorts are of high quality, the build-up is perfect and the pay-offs are all excellent. If you like Asian romance and if you have a weakness for people having a hard time communicating with each other, this is definitely your number one option.