2009 / 94m - Taiwan
Comedy, Drama - Anthology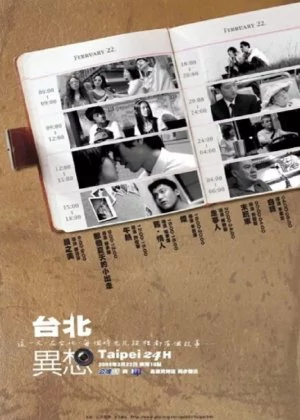 Looking back at my reviews here, I can safely say that I love a good anthology film (Genius Party and Beyond, Phobia and Phobia 2, Ten Nights Of Dreams). Some people dislike them for their lack of coherence and shifts in quality, others love them for their broad range of styles and creativity. I belong to the latter group so I was quite thrilled to hear about this new anthology project coming from Taiwan. Lucky for me it didn't disappoint.

Taipei 24h is constructed around one single 24-hour day in Taipei. Eight directors joined the project, each of them handling a different time frame. While the shorts themselves are not connected in any way the film starts in the morning and ends the next day. The range of directors is quite broad though it does miss a few of the regular old-timers (namely Hou and Tsai). Not that it reflects on the quality but it does make a film like this a little harder to sell.
The film starts off with Share The Morning, not the best opener for this anthology. The film is quite loud as a bunch of people gather underneath a tree trying to rescue a stranded cat. There's lot of shouting, quarreling and fighting going on while most of the people fail to get the cat out of the tree. The whole short is shot from the tree, making it a somewhat boring affair to look at. Shame, because a good first short goes a long way when starting an anthology film like this. 2.5*/5.0*
Luckily the second short is a good step forward. Just A Little Run follows two young kids fleeing from home. The girl is escaping from her negligent mom while the boy is just following the girl (for obvious reasons). Visually this short is a lot nicer though typically Taiwanese. Lovely colors, strong lighting and simple but solid camera work. Cute ending too. 3.5*/5.0*

Summer Heat is the first really strong entry in this anthology. A blistering romance between two office workers dies quickly when they are constantly interrupted. Hsu has a strong visual style, inserts some witty humor and keeps the pacing quite high. A welcome change for Taiwanese film making, which is usually a lot slower and more contemplative (which isn't necessarily a bad thing, but some diversity is always good). 4.0*/5.0*
Save The Lover is a strong follow-up, tracking a young boy with the task of shadowing his boss' wife on valentine's day. Little does he know he's just part of a wicked little game they are playing. Stylish, funny, mysterious and just a tad mean-spirited, Hsian-tse Cheng's short is a good example of how a short film can still come off as strong, powerful and to the point.4.0*/5.0*
The fifth in line is Smoke, a very slow and silent short giving us a glimpse of the relation between a father and his teen daughter. It's obvious they don't get along too well but they still try to get along. There is no conversation and most of the short consists of a single static shot, but the acting is strong, the feel is realistic and the drama is powerful. A very nice breather. 4.0*/5.0*

Up next is this film's best entry. Dream Walker is a modern, dashing and mysterious little short about a chance encounter on a Taipei train. A girl forgets one of her kids on said train. Our main guy doesn't really care but the kid keeps following him anyway. Set during nighttime this short turns into a wonderful yet modern fairy tale with a big wow-factor. Time to check out Yin-jung Chen's earlier films I guess. 4.5*/5.0*
Owl Service is somewhat of a mixture between Smoke and Just A Little Run. The short sees a daughter return to her father, meeting him on the night bus he drives around town. Again the relationship between both isn't too rosy, though the underlying family love still seems to conquer any troubles they're having. Seeing as three out of eight shorts seems to handle this theme, it must be quite relevant to the contemporary Taiwanese society. 4.0*/5.0*
The final short features the most famous names of this film. Kang-sheng Lee (Tsai's favorite actor) is directing, Tsai himself is acting. The short is somewhat plotless and set up as a tribute to Taiwenese most renowned dancer Man-Fei Luo. On the closing night of a Taipei coffee shop Tsai and the owner reminisce over the lost brilliance of one of Taiwan's biggest icons. Nicely shot, quite touching though slowly paced and virtually void of any action. 4.0*/5.0*
After a somewhat slow start Taipei 24h gets up to steam and doesn't let down again. Dream Walker is my definite favorite here, Share The Morning the weakest entry so don't be put off if the first short feels a little shallow. It's a diverse film with enough creativity and different visions to make up for the lack of coherence. A good recap of the Taiwanese cinema of today.