They Say Nothing Stays the Same
Aru Sendo no Hanashi
2019 / 137m - Japan
Drama, Mystery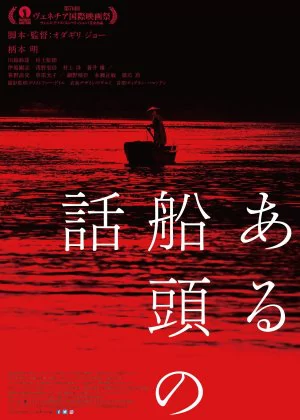 Joe Odagiri is one of Japan's most prestigious actors, certainly when measured by his international success. Not many are aware he already directed a film in 2009, the people behind They Say Nothing Stays the Same [Aru Sendo no Hanashi] were keen to use that to their advantage. Odagiri's second film has been branded his debut, and looking at the immense quality gap between the two films, it's not difficult to see why. They Say Nothing Stays the Same is the type of film that puts you on the map as a director, a film that enthuses and transfixes, a dream debut in other words.

Being a lauded actor doesn't mean you have any chance of succeeding as a director, but it does come with a couple of sizeable benefits. Odagiri worked together with some of the most prominent Asian creatives in the film business, and it's clear he was able to call in a couple of favors. If you can push actors like Tadanobu Asano, Yu Aoi and Masatoshi Nagase to flesh out your cast, while getting someone like Christopher Doyle to do the cinematography, you're already halfway there. It's no real surprise then that They Say Nothing Stays the Same doesn't really feel like the film of a first-time director.
I tend to brand Odagiri as a pretty energetic, eccentric and off-beat actor, but he also played his fair share of more introverted, subdued roles. They Say Nothing Stays the Same sees Odagiri giving in to his more serious, arthouse-friendly side. It's a pretty slow film with a limited narrative, a film that takes its time to establish a calming atmosphere, interspersed with just a handful of darker moments. That may come as a surprise to people who might have expected a wilder, more animated film, but if you know Odagiri featured in films by Ki-duk and Koreeda, things should start falling into place.
The film follows Toichi, an old ferryman who spent his entire life bringing people from one side of the river to the other. Progress never stops, and they're building a bridge just a little further upstream, hoping to make it easier for villagers to cross the river. The bridge will render Toichi's work obsolete, even so he continues to do the only thing he's ever been good at. His life is turned upside down when a young girl drifts against his boat. She has lost her memory and doesn't remember how she got there. Toichi takes her in and promises to keep her safe until she's back to her old self.

Having Christopher Doyle on board does wonders for the visuals of a film. It's no surprise then that They Say Nothing Stays the Same is an absolute stunner. The film is set bang in the middle of the Japanese countryside, where Odagiri found a truly spectacular location near a big river bent. Through the lens of Doyle, it becomes absolute paradise. Powerful, contrasting colors bring out the best of the environment, regardless of the season, the meandering camera work just adds to the wonder. A handful of more tightly edited, darker scenes bring some diversity and tension, further increasing the visual impact of the film. Nothing less than breathtaking.
To make sure the score matched the splendor of the images, Odagiri called in the help of Armanian jazz pianist Tigran Hamasyan. It certainly wasn't the most obvious choice, Hamasyan's experience with scoring movies is virtually nonexistent. The gamble turned out spectacularly well though. The music doesn't just enhance the visuals, it comfortably claims some attention for itself and blends together with the cinematography to create a truly entrancing atmosphere. It is imaginative pairings like these that show Odagiri is a director with a clear, personal vision, not just some actor who wants to experience how it feels to be on the other side of the camera.
Odagiri landed some big actors, but let's talk about Akira Emoto first. He's certainly not the biggest name in Japanese cinema, but he's been around for ages and has enjoyed a tremendous career. His onscreen presence is so demanding that it's simply impossible to look away. He's perfectly cast for his part here, and it's really heartwarming to see him being put on a pedestal for a change. Big names like Asano, Aoi and Nagase drift in and out of the film portraying secondary characters. Regardless, it's nice to have such talent in front of the camera. Finally, props to Ririka Kawashima, who proves she's much better than her career in TV suggested.

It would be easy enough to brand They Say Nothing Stays the Same as a broad critique on progress (an arthouse staple). To me, it felt like Odagiri's film wasn't really all that judgmental. Instead, the film focuses more on the process of progress. How it leaves some people behind, but also how these people adapt and manage to find a new purpose in life. Progress is a constant in our lives and people tend to have a disproportionate focus on the negatives, but a broader view often tells a very different story. Odagiri explores this, without disrespecting anyone that may be left behind.
People can safely forget about Joe Odagiri's first film and think of They Say Nothing Stays the Same as his directorial debut. It's a confident, steadfast and stylish film where Odagiri clearly benefitted from his industry connections. Still, all the connections in the world don't make a great film. Odagiri combined Doyle and Hamasyan's work to create a superb atmosphere, assembled a supremely talented cast and blended everything into a smart, empathic and respectful film. This film is a true calling card for Odagiri, let's hope this is the real start of his career as a director.