Mi Guo
2017 / 99m - China
Romance, Drama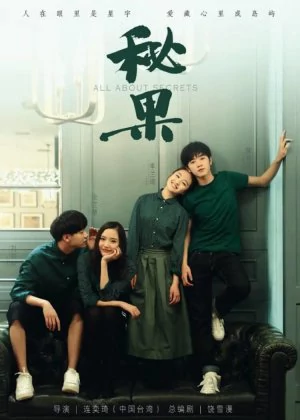 China's movie industry is booming and that ripple is felt well beyond its own borders. Hong Kong and Taiwan in particular are seeing a lot of directors making the jump, no doubt lured by a combination of better opportunities and bigger bugdets. The latest one to make the move is Yi-chi Lien, one of the young talents to have emerged from the latest Taiwanese renaissance. With Secret Fruit [Mi Guo], he takes a typical Taiwanese coming of age drama and moves it to China. The result is pretty great.

It actually took me a while to realize Secret Fruit was Lien's film, as most online sources credited the director as Lian Yiqi. Different ways of transliteration have always made it tougher than necessary to keep track of Chinese artists and movies, a severe lack of English sources keeping up with the Chinese movie industry (Secruit Fruit isn't even on IMDb yet) doesn't make it any easier. Luckily I remembered the in-film credits listing a different name or I might have never known.
I might have suspected though, because Secret Fruit has all the bearings of a Taiwanese film. Even though directors and actors are quite interchangeable between the three Chinese industries (and crossovers happen regularly), each one has a very distinct style that sets itself apart from the others. Taiwanese cinema tends to be more subdued, less flashy and while not exactly subtle, at least a lot softer in tone. All the right ingredients for a proper coming of age drama in other words.
Secret Fruit is the continuation of a TV series, though the story is easy enough to follow without having seen the series first. It revolves around Mili and Duan, two childhood friends. As these things go, she loves him but he is looking elsewhere for affection. Duan has a crush on his teacher, but she is having romantic problems of her own. The characters keep twirling around each other and while the audience probably has no trouble predicting who's going to end up together, the characters themselves seem to be having a much harder time figuring things out.

Lien's Make Up was superbly stylish and he brought that same sense of style to Secret Fruit. Impeccable use of color and lighting, strong camera work and amazing use of the various settings make for a lush-looking film. It sure helps when a tried and tested concept gives you some neat visuals to snack on while the story is slowly unfolding, luckily there's plenty of that here. Quite a few memorable moments are derived from the film's visual prowess and make a lasting impression.
The score might be a bit more divisive. The music is pretty typical for Asian dramas, with lots of pianos and strings dominating the soundtrack. It isn't exactly subtle either, but it does help to ground the atmosphere. If you're not taken with the characters and visuals, it's the kind of score that will quickly turn into sentimental dreck, but I really didn't mind it that much here. On the upside, the soft-spoken dialogue has a bigger impact on the overall atmosphere and adds a fine layer of melancholy that somewhat counters the boldness of the music.
Heading the film are Nana Ou-Yang and Oho Ou. Ou is quickly making a name for himself (he also took on the lead in Fist & Faith) and it's not hard to see why. It's Ou-Yang who has the most work here though, as Ou's character doesn't do too much beyond looking sullen and detached for the bigger part of the running time. Ou-Yang shoulders the dramatic part of Secret Fruit and delivers a fun, cheeky character with just enough depth. The supporting cast is nice too, though they are mostly just there to flesh out the lead characters.

Secret Fruit is a coming of age drama/romance that politely asks its audience to allow it some slack for its frivolous romantic escapades and light-hearted drama. If you're not in the mood for the romantic woes of adolescents, this is definitely not a film for you. But if you don't mind a little trip back to a simpler time (that is of course, if you're 30 or above) Secret Fruit is a stylistic highlight that feels cosy and warm and charms its way from start to finish. It's not genre-bending cinema, but it's executed to near perfection.
Yi-chi Lien delivers another fine film. His move from Taiwan to China has zero impact on the end result and unless you're familiar with the Chinese scenery present, chances are you won't even realize you're not watching a Taiwanese movie. Unless you're completely allergic to coming of age films with a strong injection of romantic drama, Secret Fruit is an easy recommend. Sadly the availability of this film is terrible (again), which may make it almost impossible to actually give this one a fair chance.