Xing Kong
2011 / 99m - Taiwan
Drama, Fantasy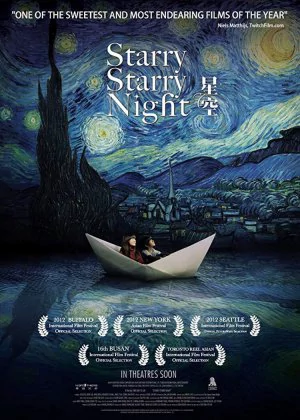 Tom Lin's latest endeavor may be his definite ticket to international recognition, if Starry Starry Night [Xing Kong] makes it out of Taiwan (always somewhat of a gamble). It's a film with enough potential to appeal to a wide audience while at the same time maintaining its artistic integrity and firm traces of Lin's own personal voice. One thing is certain though, the result is one of the sweetest and most endearing films of 2011, warmly recommended for brightening up a cold winter evening.

Lin has made some first-grade career choices these past few years. After brushing up his skills as first assistant director for a couple of quality productions (Spider Lilies, The Wayward Cloud, Do Over) and helming his very own first feature film (Winds of September), he now tackles the adaptation of a popular illustrated novel by Jimmy Liao. A smart move that landed him some extra budget to play around with, obviously well-spent.
Starry Starry Night is the slightly fantastical tale of Mei, a 13-years old girl trying to deal with growing up, while still escaping to her own fantasy world when real-life problems prove to be too daunting to face. Mei finds a companion in Lee, an introverted young boy who just transferred from another school into Mei's class. When Mei's parents decide on a divorce, Mei runs off with Lee in search of a moment of untainted happiness and maybe even some romance.
The film is told completely from the perspective of Mei. Lin could've grabbed this opportunity to lose himself in overly detailed fantastical dreamworlds, instead he keeps the feel of Starry Starry Nights much more down to earth, limiting most fantastical elements to background details or small touch-ups left and right. It gives the film a more mature atmosphere while still respecting the world of the main characters and their somewhat immature behavior.

Lin impresses royally with the film's visual style. Moody, warm and colorful, but also with a more serious and grim edge during the first, more reality-based half of the film. The CG is remarkably well accomplished, being both technically and aesthetically pleasing. One scene in particular, near the end of the film (the dream with the jigsaw puzzles) turns out to be a real stunner. Starry Starry Night is yet another film underlining the aesthetic reputation of Taiwanese cinema.
The soundtrack is a bit more on the safe side (as is usually the case with this kind of film). Starry Starry Night features a quality score with quite a few agreeable and atmospheric tracks, but it does little more than support the scenes Lin had in mind. I prefer my soundtracks to be a bit more defining and out there, but I must say that the music here does add a layer of sugar-coated softness and glow that benefits the overall atmosphere.
As for the acting, Jiao Xu carries most of the film on her shoulders. Discovered in Stephen Chow's CJ7 she is now clearly expanding her reach into more complex and demanding roles. Lin gives her plenty of room to sparkle and Xu clearly grabbed that chance with both hands. Her performance is outstanding and gives a lot of extra shine to the Mei character. Eric Lin supports her pretty well, the rest of the secondary cast is solid but clearly not the main focus of Starry Starry Night.

If the poster art looks somewhat familiar, it may be because Woody Allen used the same Van Gogh painting to promote his latest film, Midnight In Paris (or because you've seen the Van Gogh painting before of course). The painting is more relevant for Starry Starry Night though, as it is actively featured during one of the key scenes and it is used to flesh out the key morale of the film. The whole art angle within Lin's film might feel a bit forced at first, but it does pay off rather well as the films progresses and it finds a perfect conclusion in the final scene.
While the epilogue is quite mushy and even sentimental, Lin shows his true mastery by making you believe this was the only ending possible. You can very well call it a feel-good Hollywood finale (and there is little to contradict that), but it's executed with so much class and warmth that any other conclusion would've felt wrong and out of place. The final shot is of stunning, unprecedented beauty and will leave you with a warm, contented feeling that carries on well beyond the last credits have disappeared from the screen.
Tom Lin delivers one of the dearest, warmest and most charming films of the year, a beautiful, stylish and imaginative trip that glaces at the world through the eyes of a 13-year-old girl. The film has its fair share of memorable scenes and a truly magnificent ending that will keep you comfortably warm during cold, rainy winter days. I'm already looking out for Lin's next film as I'm sure there's still a lot of unexplored potential left in him. For now though, I'll just recommend Starry Starry Nights and hope that it will reach a big, appreciative audience that will give it the love it deserves.