San Geng
2002 / 122m - Hong Kong
Horror - Anthology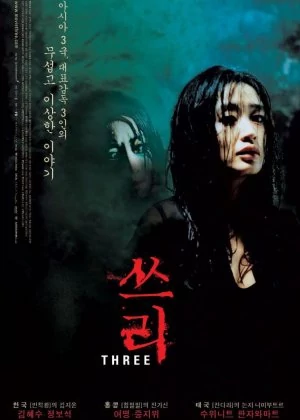 Around the turn of the century, Asian horror cinema was all the rage, and anthology projects were the perfect way to discover new horror talent. Three [Sa Geng] was a more prestigious project though, not so much focused on unearthing new directors but showcasing promising, talented genre directors on an international stage. I wasn't quite sure how the film would hold up two decades later, with the niche being completely milked dry in the time between, but I was quite happy to discover that the core quality was still present.

First up is Jee-woon Kim's Memories. Kim would go on to direct A Tale of Two Sisters a year later, and it's easy to see how the foundation for that classic was laid here. Kim's short has that typical South Korean horror vibe, which combines a tense, brooding atmosphere with stylish cinematography and a little drama on the side. It's certainly not the most visceral type of horror cinema, but it will find a way to slowly crawl under your skin. The mix of drama and horror is perfectly balanced, the haunts are classic but effective and there are a few signature horror scenes that stand out.
Whereas most South Korean films tend to be a little too long and drawn out, Memories was forced to be short and to the point, which worked in its favor. There isn't too much time to dig into the background of the characters or to explain the story in full, which actually adds to the mystery and the dread. The performances are solid, the cinematography is polished and there are a couple of perfectly creepy moments that help to set the film apart. If you're familiar with Korean horror you won't find anything new here, just a perfectly executed genre effort. 4.0*/5.0*

With Nonzee Nimibutr's The Wheel we're leaving South Korea behind and we're moving to Thailand. Their horror films tend to be a bit more rooted in traditional culture and folklore, of which this is a perfect example. The film follows a group of khon dancers who want to up their game. They get their hands on a hun lakorn lek puppet, but they underestimate the severity of the curse that comes with the ownership of these puppets. It has little bearing on the horror elements, in the end, this is just another curse-based flick, but it does add a bit of couleur locale.
The puppetry/dance scenes are quite moody but a little limited. The rural setting also adds to the intrigue, but ultimately it's Nimibutr's confident direction that stands out the most. The score and cinematography work well together, the scares are pleasant, and the seemingly inescapable curse spirals appropriately out of control, leading up to a grim finale. It's a classic Thai horror flick in every sense of the word, but when the execution is more than capable that's not a bad thing at all. A good introduction for people not familiar with this country's horror output. 4.0*/5.0*

The third and final short is Peter Ho-Sun Chan's Going Home, probably the most prestigious director at the time of this film's release. He represents Hong Kong horror, which likes to mix the old with the new. Old folklore is reborn in an urban landscape, though the near-deserted apartment complex that forms the principal setting for this film is a far stretch from the bustling city life that is usually depicted in Hong Kong cinema. Chan delivers an interesting take on their usual horror output, with Going Home being my favorite of the three films (though only by a slim margin).
When a family moves into an old apartment complex, they quickly notice something strange going on. Their neighbor is up to no good and creepy apparitions manifest inside the building. Again, it's not the most original story (though there is a cool twist at the end), but the execution is on point. Moody cinematography, desaturated colors, a properly fitted soundtrack, and some good scares turn this into a fun and grueling little horror film. It's a bit of a shame Peter Chan never explored this genre any further because he definitely has a knack for it. 4.0*/5.0*
Three isn't an anthology that was made to let a few inspired directors push the genre forward, instead, it's a showcase that allows three countries to highlight their proficiency in the horror genre. Slick styling, a sizeable budget, and proper scares lie at the core of the film's appeal, with each director injecting a dose of local folklore to set the different shorts apart. The three films are all quality horror stories that deliver the goods, without coloring too much outside the lines. It's an easy recommendation for people who loved the Asian suspense wave, others might think twice before checking this one out.