Zui Hao De Shi Guang
2005 / 139m - Taiwan
Romance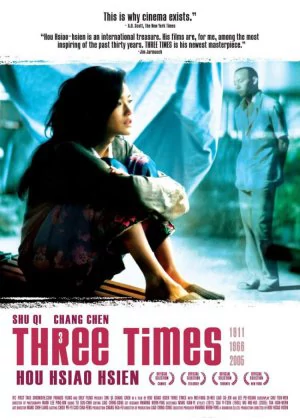 It's been a while since Hsiao-Hsien Hou made anything substantial. Safe a quick short film (as part of the 10+10 anthology project) little has been heard from him ever since he released Le Voyage Du Ballon Rouge. At one point rumors whispered he was going to direct a martial arts epic starring Tadanobu Asano, but that's about it. So it's a relief the man left us with a magnificent oeuvre to cover the distance between now and what will hopefully become his future set of films because his work is definitely one of a kind.

Three Times [Zui Hao De Shi Guang] is a good starting point if you're interested in Hou's work. It's an anthology project, covering three (elaborated) short films, though all directed by Hou himself. Each short features the same two actors (Shu Qi/May and Chen Chang/Chen), set in different time periods and following their trials and hardships when falling in love.
The first short is A Time For Love, which takes us back to the 60s. It's Hou's take on pure and delicate love and it's probably the short that lies closest to Hou's older films. May works as a hostess in a table pool bar where Chen visits her on a regular basis. Until Chen is called to join the army. When Chen returns it turns out that May moved on, leaving him very little to track her down. Chen is not ready to give up on May though and uses every little bit of info to try and locate her again.
A Time For Love is slow and subtle. This is not your typical Western romance, where people fall in each other's arms and kiss wildly when they are finally reunited. The romantic highpoint appears when May and Chen hold hands for the first time ... and that's about the hottest thing that happens. Then again, Hou films it in a way that really needs no further explanation: these two people love each other. The music is a selection of popular 60s tracks, and while I'm not too fond of them outside the context of this film, they really work wonders here. This is definitely the most beautiful of the three shorts.

A Time For Freedom is without a doubt the most difficult and impenetrable of the three films. It's a silent short, set in 1911. If you thought holding hands was a pretty rudimentary form of romance, you'll be amazed at how things turn out here. This short is probably best compared to Hou's own Flowers Of Shanghai, only A Time For Freedom is even more subdued and stoic.
May and Chen talk with each other and that's about it. Clearly, they appreciate each other's company, but protocol prohibits them from truly exposing their feelings. Dialog is shared through intertitles (in line with classic silent films, though it was rumored that it's also somewhat of a hack because Qi and Chan had a lot of trouble with the dialect), further highlighting the icy social behavior of May and Chen. The score is comprised of beautiful piano music, mixed with traditional Chinese vocal music (another thing that will put off Western audiences). Many people might not even feel or understand the romance, but if you're familiar with hardcore Asian dramas you'll know what to look for in both actors, as their body language clearly reveals the love both share for each other.

A Time For Youth is the contemporary short of the anthology. May is a bar singer, while Chen acts as her photographer. Both of them are seeing other people but they are clearly drawn to each other. A Time For Youth is the least naive of the three short films, treating romance and love almost as throw-away commodities. Still, the love between May and Chen feels real enough, though definitely not as cute and deep compared to the two other shorts.
Many people cited the final short film as the least accomplished one, but I think that's just the traditional expectations of romance speaking. A Time For Youth is an essential part of this mini-trilogy and people who are partial to Hou's Millennium Mambo will definitely appreciate the feel and pacing of this short.
Three Times is a slow burner. Even though the film is split into three different parts, there isn't much in the way of storyline or dramatic events. Hou likes to observe his characters, catching them in their most private moments. The acting is very natural, Hou's camera is delicate and loving and the score is spot on. Three Times is a beautiful film, casting its view on the different aspects of love and romance. It's Hou at his very best, which makes it a film that should not be missed.