Vaiburêta
2003 / 95m - Japan
Drama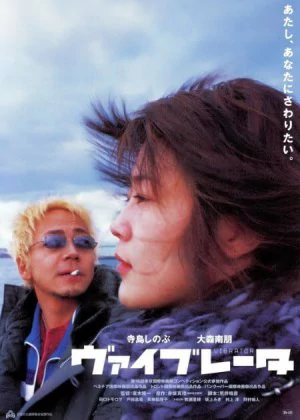 It's hard to remember a time when I hadn't seen a Ryuichi Hiroki film. Back in the early 2000s he quickly became one of my favorite directors, even though his films typically aren't fully overlapping with my personal taste. Vibrator [Vaiburêta] was the first Hiroki film I'd ever watched, and while I remember not being entirely convinced by the film, it did become a personal favorite over time. It would be the first of many. I never gave the film a second shot, so I was eager (but also a little scared) to revisit the film that had introduced me to one of my go-to director of the past two decades.

Hiroki is one of those Japanese directors who learned the trade in the pinku genre. While most others tend to turn their backs on their past once they become "legit", Hiroki has always kept a healthy fascination for taboo subjects. Once he started focusing more on purer drama, he began to single out female characters and their way of dealing with sexuality and other societal issues. It earned him the reputation as a director who could portray powerful, layered and life-like female characters, one he unequivocally deserves (despite the unsubstantiated uproar earlier this year, when Ride or Die enjoyed a global Netflix release).
One thing that sets Hiroki's oeuvre apart, is that he often tries to work in elements of different genres into his films. Though never in very obvious ways, nor in ways that would overpower the drama. Vibrator is a perfect example. Though the film is set up like a typical road movie, it never really feels like one. You're watching two people traversing Japan in a little truck, but the focus is solely on these two characters, not on the places they visit or the people they meet along the way. Doing it like this, Hiroki tries to mix the best of both worlds, though purists might be a bit disappointed by his approach.
Rei is struggling. She is lonely, she hears voices in her head, she drinks too much, and she suffers from an eating disorder. When she's out to buy food, a young guy (Takatoshi) walks into the store and Rei immediately feels attracted to him. She runs after him and the two enjoy a passionate night in his truck. Rather than part ways, Rei joins him on an errand that will take them all the way to Hokkaido and back. Though Takatoshi is married and has a daughter, Rei feels there's a strong connection between them, and their conversations seem to drive away the voices in her head.

Hiroki made good use of the rise of DV during the 00s. It allowed him to bring the camera closer to the characters, making his dramas more intimate and personal. It doesn't make for the most visually appealing cinema though. Hiroki still finds time to highlight some beautiful moments, and he does have a good eye for moody lighting (there are some pretty sunsets and a nighttime ritual with plenty of candlelight). The off-the-cuff camera work and the subpar image quality just don't do justice to these moments. That said, I do think the camera work supports and enhances the drama, which makes it easier to give the lack of visual splendor a pass.
The soundtrack is Hiroki's typical mix of light background music and singer/songwriter-like pop songs. It never crosses over into J-Pop territory, but people who can't stand Japanese pop music might want to turn the volume down a bit. There isn't too much music though, Hiroki relies more on the dialogues (and silences) between the characters and sparsely uses the music to brighten the travel scenes in between. It's certainly not my favorite soundtrack ever, but it's appropriate and fitting for the type of film Hiroki set out to make.
A film like this needs killer actors, as Vibrators leans heavily on its characters. Hiroki is known for drawing strong performances from the people he works with, and that's certainly the case here. Nao Ômori (best known from his role in Ichi the Killer) does an excellent job as Takatoshi, but it's Shinobu Terajima who deserves the most credits. She's one of Japan's most gifted actresses, her collaborations with Hiroki (It's Only Talk being the absolute highlight) are just stellar. She brings her character to life with so much layers, depth and compassion, that it's difficult not to care for her, regardless of her somewhat erratic behavior.

The characters in Vibrator may not be the most likeable, nor are they very open or clear to read. Still, the bond they build up during this short time is precious, and it's really heart-warming to see how they can open up to each other, without the need for many explicit dialogues or too much explanation. It certainly helps if you have some familiarity (and affinity) with Japanese dramas, as these characters could be a little tricky to read, but seeing how this film became Hiroki's break-out hit, it should be accessible enough for most people who like a good arthouse drama.
Vibrator is the film that established Ryuichi Hiroki as a talented director, and because its qualities are rather timeless, the film has lost little of its shine over the past two decades. It's not an audiovisual wonder, and it may skip over some expectations of the road movie genre, but the characters are appealing and layered, while the performances are beyond stellar. It's a pretty good introduction into Hiroki's oeuvre and an absolute must for fans of the man, others might want to get a bit more familiar with Japanese dramas first. A powerful film.