Yawarakai Seikatsu
2005 / 126m - Japan
Drama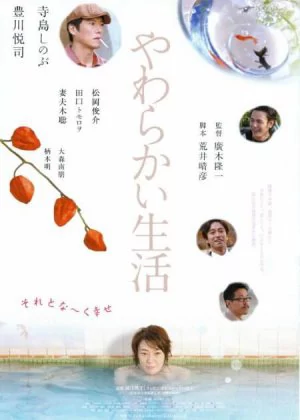 Of all the Ryuichi Hiroki films I've seen so far, my absolute favorite is probably the toughest one to find. It's Only Talk [Yawarakai Seikatsu] is an elusive little film, but persistent die-hards are likely to uncover one of Hiroki's purest, warmest, and most loveable dramas. All his usual traits are here, honed to perfection and served in perfect moderation.

It must've been 7 years ago, back when I still frequented the International Rotterdam Film Festival, when I first laid eyes on Hiroki's It's Only Talk. It was somewhat of a chance encounter (I hadn't seen that many Hiroki films back then) and before I went in my expectations weren't all that high. But somehow the film spoke to me and nailed me to my seat. Sadly it was also the last time I would hear from the film until it surfaced again not too long ago.
That particular visit to the Rotterdam Film Fest wasn't just all good memories though. It was one of the last times I visited a (big) festival as the audiences there really appalled me, showing little respect for the films playing and effectively ruining the ending of It's Only Talk in between a storm of sighs and people putting on their coats, even before the end credits had started rolling. Since then I've preferred the quiet of my own home to watch films, or at least more targeted film festivals.
It's Only Talk is Hiroki's tale of a woman suffering from manic depression. While she looks and behaves quite normally throughout the first hour (though maybe a bit more brash and open than you would expect from a Japanese woman), the second part of the film sees Yuko taking off on an emotional roller coaster. Luckily she can count on the support of her favorite nephew, who has just moved in with her after he had a fight with his wife.

Visually this is probably one of Hiroki's better movies. Filmed quite naturally and close to the characters' skin, Hiroki finds beauty in the natural play of light and the characters' faces and emotions. It's far from overly stylized and there aren't too many landmark shots here, but overall Hiroki manages to create a visually warm and appealing atmosphere that sets the right mood for the drama to come.
There isn't much in the way of a soundtrack, safe a few notable moments where Hiroki cashes in big time. These scenes function as miniature short films, little out-takes of atmosphere that help to sculpt the characters. They may not bring much in terms of plot and progression, but they make being with the characters a very pleasant experience. For that alone, the soundtrack is superb, even if quite predictable for this type of film.
The true star of It's Only Talk is Shinobu Terajima. Brought to the surface by Hiroki himself (she featured in Vibrator, one of Hiroki's breakthrough films), here she repays the favor by delivering one of the best performances ever caught on film. Her character may not be the most likable and between her brash behavior and her fierce mood swings she may look like a lost cause, but she portrays her character with such simple grace and sincerity that it's hard not to sympathize with her. Etsushi Toyokawa is strong as Terajima's cousin, Tomorowo Taguchi has a smaller but solid part too.

It's Only Talk is a film with heavy subjects and themes, some even controversial and taboo. But Hiroki never aims to shock or repulse, instead, he handles the themes in a very comfortable, subtle, and respectful way. While maybe a little too long, the film warrants its running time, every minute spent with Terajima's character adds to the emotional attachment. Some people may not appreciate the prolonged ending, but in my eyes, the payoff is totally worth it.
This film would be the perfect entry film into Hiroki's oeuvre, if not for the fact that it is virtually impossible to track down (unless you speak Japanese - and even then it's quite tricky). Hiroki delivers one of the most natural, confident, and empathic dramas I've ever laid eyes on. On the outside it appears to be a simple film, but underneath lies a wealth of emotions, helped by Terajima's stellar performance. Absolutely recommended (and hopefully we'll see an English-friendly release someday).