---
2014 / 95m - UK
Comedy, Drama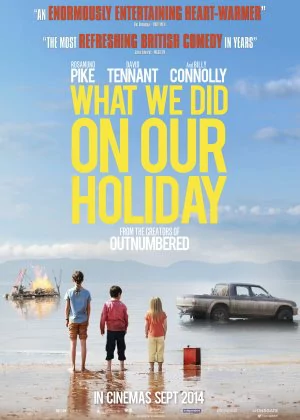 When looking for lighter fare, I accidentally stumbled upon this film. It didn't look like a winner on paper, but I decided to give it a go anyway. Turns out Hamilton and Jenkin have a knack for combining feel good drama with quirky, slightly darker comedy. The result is a pretty big charmer.
Read all

Doug and Abi's marriage is pretty much finished, but not wanting to upset his father any more than necessary, Doug drags his kids and future ex-wife to his 75th birthday party. The kids aren't very good at keeping secrets though and Doug and Abi are prone to get into rowdy arguments, so it's a mission that seems doomed to fail.

Though Connolly has a rather small part, his characters (and performance) are crucial to the film's success. His character supports the somewhat outrageous events of the second half and grounds the kids' lovely sense of humor. The rest of the cast is solid too, the mix of drama and comedy works well and while I never got the idea I was watching a true masterpiece, it's certainly a film I'll fondly remember.