---
Kotoba no Nai Fuyu
2008 / 94m - Japan
Drama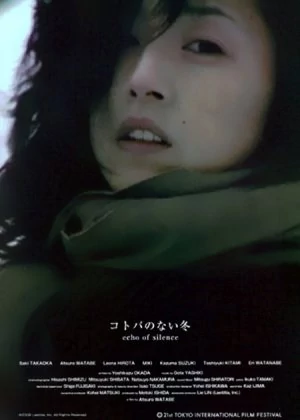 It's a bit weird to speak of "Japanese island films", when Japan itself is in fact one big island. But there's something unique about the movies filmed on Japan's smaller offspring. On the one hand you have the sunny, agreeable and relaxed films like Megane and Kikansha Sensei, on the other hand the icy winter setting featured in Kaza-hana, Hana-bi and Qianxi Manbo (usually round and about Yubari, home of one of Japan's most famous film festivals).
Read all

Kotoba no Nai Fuyu [Echo of Silence] falls in the latter category. Much of the film's atmosphere is drawn from the near-constant snowfall, the snow-covered surroundings and the icy walls next to the roads. It's the ideal setting for a subtle, slightly stoical drama, lit up by small touches of warmth and comfort. From afar Kotoba no Nai Fuyu may appear to be a depressing affair, up close it turned out to be a very sweet, soothing little film.

The story revolves around Fusako, a young girl stuck in a small, rural town. Instead of turning this into a typical "I want to leave this place" drama, she's actually quite content with her life. She takes care of her single dad, her sister flies in from Tokyo from time to time and she has a job she doesn't hate. It's not a glamorous life, but it's a happy one. The only thing lacking is a boyfriend. People in town urge Fusako to get married, but unless she can find a good match she's just not interested. All that is about to change when she runs into a mute technician who shelters her from a rampant snow storm.

Kotoba no Nai Fuyu is a very typical Japanese drama. It's a little slow and uneventful, characters aren't very vocal about their emotions and there isn't a big, emotional pay-off in the end. It's also good at not showing important, defining events in the lives of its characters, instead it prefers to focus on the aftermath directly. Not everyone is going to like that, but for me personally it's something that draws me to these films. And I must say, Atsuro Watabe did a pretty good job with it.

The only reason why I didn't give it a higher score is the lack of engaging visuals. It shouldn't be too hard to make an attractive looking film in a setting like this, but the image quality is a little too grainy and the camera work simply too rough for my taste. People like Hiroshi Ishikawa have shown that this style can work for Japanese dramas, but Kotoba no Nai Fuyu ended up looking just a bit too plain and boring.

That said, there's still a great little drama hidden away underneath its homely façade. The acting is great, the characters are loveable and emotions aren't spoon-fed. Sadly this is the only film Watabe ever directed, but since he's still quite active as an actor one can only hope he takes up the directing glove once more in the near future. There's a lot of potential here, some truly great moments to experience, so if he could just package it a little better there is nothing stopping his films from becoming true gems.